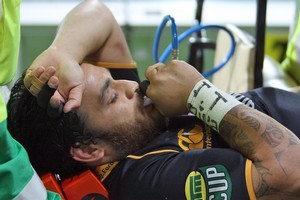 There were no serious injuries, at any level of the game, during the 2010 rugby season says the New Zealand Rugby Foundation.
This was down from after an unusually high five in 2009, and two in 2008.
New Zealand Rugby Foundation CEO Andrew Flexman says "in terms of injury, this year couldn't be any more positive".
"After 2009, when we had five serious injuries before July, 2010 represents a real turn around." Flexman says that injury-prevention campaigns are working.
"It certainly shows that on average the Rugbysmart programmes are effective; the message about safe tackling and safe entrance at rucks/mauls is getting through.
"We often use the ambulance at the top of the cliff metaphor; while we provide assistance when injuries happen, we like to also work on injury prevention."
The New Zealand Rugby Foundation is set up to help players who have suffered a life changing injury playing rugby. It provides financial assistance to those players and their families.
It has provided $250,000 to date in the 2010 Financial Year.
"To be able to be there to provide support for players' unfortunate enough to come into this circumstance is really encouraging. As a charity, we rely on people?s patronage, as well as the New Zealand Rugby Union.
"As with any sport, serious injury is only one false move away. We as the watchdogs, and those playing game, have to keep vigilant, monitor trends, and try to make the game safer," Flexman says.
- Herald online