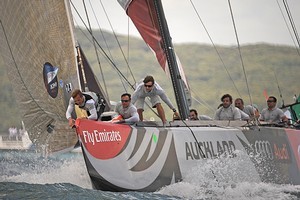 Team New Zealand and Americans Oracle Racing will face off in the final of the Louis Vuitton Trophy Dubai yachting regatta after both won their semifinals 2-0 today.
The Dean Barker-skippered Team NZ got past Italy's Mascalzone Latino, while America's Cup holders Oracle ousted French-German opponents All4One.
The final on the waters of the Arabian Gulf will be sailed tomorrow as a best-of-three series.
Barker and his crew had to come from behind for both their wins over compatriot Gavin Brady and the Mascalzone team.
In a split tack start to race one, Team NZ targeted the right-hand side, but Mascalzone hit the front on the first leg to lead by 22 seconds at the top mark.
The New Zealanders made ground on the run to approach the leeward together with the Italians, who then fell behind with an untidy spinnaker drop.
In race two, the decisive moment was at the first mark rounding, where Team NZ were able to force a penalty on Mascalzone.
Barker said it had been a tough day for trying to pick the better side of the racetrack.
"Mascalzone led both times at the top mark but fortunately we were able to keep the racing close enough," he said.
"The guys sailed really well all round the course, keeping it close and taking advantage of the opportunities."
Barker was cautiously optimistic heading into the final.
While Team NZ had now made the final of all five Louis Vuitton events and will be going for their fourth title, Oracle would head into the showdown as the form team over the past fortnight.
Oracle's results in Dubai represent a big change in their fortunes from the last regatta at La Maddalena in Italy six months ago, when they finished ninth.
Skipper James Spithill, who was also at the helm of the syndicate's giant trimaran when they won the America's Cup off Swiss defenders Alinghi in February, said his crew felt they were back at the level required for sailing a monohull.
The Australian was looking forward to another tough duel with Barker, whom he knows well.
"Dean is a fantastic sailor, calm and with a good temperament," he said.
"He and I have had some great racing over the years. I don't expect tomorrow to be any different."
The Dubai regatta is the last in the Louis Vuitton series and also the last time that International America's Cup Class sloops, first introduced in 1992, will be raced by America's Cup syndicates.
- NZPA