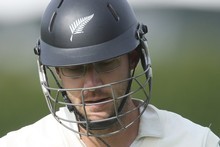 New Zealand's floundering cricketers cannot stand accused of keeping the people waiting as they rushed headlong to a crushing loss in the third test against India today.
India won the match by an innings and 198 runs, New Zealand's fifth heaviest innings defeat in history, when the tourists' second innings expired at 175 just 40 minutes into the second session on the fourth and scheduled penultimate day.
New Zealand's prospects of saving the match at VCA Stadium dissolved in the morning session as they capitulated to 140 for eight after seven wickets tumbled as poor batting and poor officiating conspired against them.
And the tailenders could not prevent the inevitable as the hosts mopped up the dregs to secure the series 1-0 and take the psychological high ground ahead of the five-match one-day series between the countries starting at Guwahati on Sunday.
Despite their predicament Tim Southee and Andy McKay enjoyed themselves after lunch as they put on 51 runs for the ninth wicket, the best partnership of a sorry innings which ended when Southee was bowled by fast bowler Ishant Sharma for an adventurous 31.
Chris Martin did not hang around, Sharma cleaning him up first ball to end with figures of three for 15, while offspinner Harbhajan Singh took three for 56.
The fourth morning went pretty much as the previous three as the Indians reigned supreme after the tourists resumed at 24 for one in their second innings after India strolled to a commanding 566 for eight in their only innings.
After more than holding their own in high scoring draws at Ahmedabad and Hyderabad, New Zealand's batting has been flaky here, particularly in their first innings of 193.
They were outplayed and outmanoeuvred in all aspects here by the world's leading test nation.
Today began disastrously and did not improve for the New Zealanders when Brendon McCullum, Martin Guptill and nightwatchman Gareth Hopkins all went in quick order.
McCullum was on 25 in just the third over of the day when he paid the ultimate price for playing back to left-arm spinner Pragyan Ojha, only to be pinned directly in front of his stumps to present Australian umpire Simon Taufel with a straight forward leg before wicket decision.
But Taufel got it horribly wrong on the first ball of Ojha's next over when he again raised the finger despite the ball pitching outside leg.
Guptill had every reason to feel aggrieved but had no option but to accept his first ball duck as a occupational hazard caused by questionable officiating.
Hopkins, on eight, was the victim of an outstanding catch at short leg by Gautam Gambhir, who dived to his right to grab a ball which had deflected from bat to pad to give Harbhajan an excuse to rejoice.
At 62 for four Jesse Ryder joined Ross Taylor at the crease, with the latter scoring freely to reach 29 with four boundaries before another piece of inaccurate officiating cost him his wicket.
This time it was English umpire Nigel Llong, who erred in upholding Harbhajan's bat/pad catch appeal when no deflection was evident.
The last specialist batsman, Kane Williamson, did not bother the Indians either as fast bowler Ishant Sharma exploited the vagaries of a fourth day surface to bowl the 20-year-old for eight with a straight ball which kept low.
Ryder, who used Guptill as a runner due to a calf strain which has troubled him since the first test, was the architect of his own downfall for 22.
The big right-hander reined himself in for close to 1-1/2 hours until the introduction of part-time spinner Suresh Raina.
Ryder gave himself all of one sighter before slamming Raina's second delivery directly to Sharma at deep mid off.
Skipper Daniel Vettori then joined the procession when Raina picked up the fourth leg before wicket decision of the innings after the left-hander had made just 13.
SCOREBOARD
New Zealand
First innings 193
India
First innings 566-8 dec
New Zealand
Second innings (overnight 24-1)
T McIntosh lbw b McIntosh 8
B McCullum lbw b Ojha 25
G Hopkins c Gambhir b Singh 8
M Guptill lbw b Ojha 0
R Taylor c sub (Pujara) b Singh 29
J Ryder c Sharma b Raina 22
K Williamson b Sharma 8
D Vettori lbw b Raina 13
T Southee b Sharma 31
A McKay not out 20
C Martin b Sharma 0
Extras (10b, 1lb) 11
Total (51.2 overs) 175
Fall: 18 (McIntosh), 38 (McCullum), 38 (Guptill), 62 (Hopkins), 93 (Taylor), 110 (Williamson), 123 (Ryder), 124 (Vettori), 175 (Southee), 175 (Martin).
Bowling: S Sreesanth 7-3-25-0, I Sharma 6.2-2-15-3, P Ojha 17-2-67-2, H Singh 19-4-56-3, S Raina 2-1-1-2.
Result: India won by an innings and 198 runs. India won the three-match series 1-0.
- NZPA