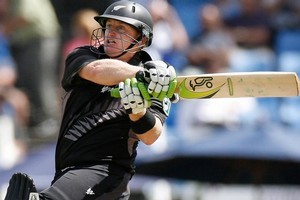 Black Caps one-day specialist Scott Styris was named in the ODI squad to tour India this morning but according to the all-rounder it was news to him.
The Northern Districts veteran posted on Twitter that it was his domestic teammates who broke the news that he'd been recalled to the Black Caps, instead of it hearing from the team selectors.
Under his Twitter account (scottbstyris) he wrote:
"Just been told by my ND teammates that I'm off to India for the odis.
Yet I've heard nothing from our selectors? Strange???"
Former Black Caps test bowler Iain O'Brien (iainobrien) replied to the tweet saying: "not strange... It's worse when you not told and not going... That's happened, more than once to someone I know well! Go well!"
An hour later Styris posted: "For those interested, in nz if you are contracted (top 20) then you get told either way. Or if you were in for last tour and now you're out."
New Zealand Cricket commercial manager Peter Dwan told nzherald.co.nz that Styris should have been contacted as it was normal procedure to give players a heads up before a squad was officially released.
"Each player selected or not selected, who might rightly have an expectation they were in the frame, would be contacted by a member of the selection panel.
"That's what normally happens, that's what usually transpires. Clearly for some reason that hasn't happened on this occasion."
In August the England cricket team were banned from using Twitter after Kevin Pietersen was fined for making a profane comment after discovering he had been dropped.
The Black Caps play five ODIs in India starting on November 28.
Central Districts batsman Jamie How has been recalled to the side with BJ Watling and Aaron Redmond the only casualties of the Black Caps' series loss to Bangladesh.
Hamish Bennett and Shanan Stewart were unavailable for selection due to injury.
Squad:
Daniel Vettori (c), Grant Elliott, Martin Guptill, Gareth Hopkins, Jamie How, Brendon McCullum, Nathan McCullum, Andy McKay, Kyle Mills, Jesse Ryder, Tim Southee, Scott Styris, Ross Taylor, Daryl Tuffey, Kane Williamson.
- Herald online