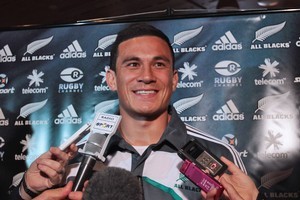 Sonny Bill Williams was the "bolter" in Sunday's All Black's team selection for the Northern Hemisphere tour - prompting mixed views from Herald readers.
Public opinion is split between those who believe the selection is warranted and those who feel his inclusion in the squad "cheapens" the All Black jersey.
Many are cynical about the selection, summed up by daveyboy who suggested making the squad was part a "package deal" when Williams signed with the New Zealand Rugby Union. "The nzrfu (sic) should have shown some cojones and put [Robbie] Frewen in ahead of Williams," they wrote.
In nzherald.co.nz's Your Views section Bruce, from Wellington, agreed. "Williams will play the World Cup next year, make no mistake but by year end will be once again earning millions in France - and good luck to him," he wrote. "But deserving of being an All Black now, based on playing at the highest level like all the others? Nah.
It's the worst case of cheapening the jersey I have seen, but it's a professional era and he won't be the last."
YouKnowItsTheTruth described Williams as a "mercenary". "Personally, I don't like the way he has acted in the past. Not so much the drinking and public sex, but the way he showed zero loyalty to his rugby league club."
Whanganui's My2BobsWorth supported the selection, saying Williams' rugby league experience and skills would be invaluable to the All Blacks: "SBW has shown he has the class and potential to be picked. He needs as much game time as possible so that he will be formidable come RWC next year," they wrote.
Matty said Williams has "so much untapped potential". "You have to realise he is still so young and people continue to judge him on decisions and mistake made years ago. He has matured a lot thanks to a lot of support from rugby heroes to coaches and family, he can only get better and his confidence will keep growing which will help on the field."
TV Ref agreed. "Williams has made a big progress already. You simply can't ignore three main characteristics of this guy - raw talent, power and incredible vision with ball in hand."
- NZ Herald staff