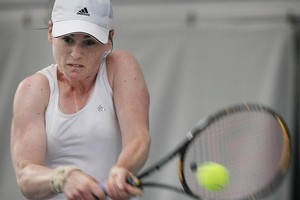 Tennis player Ellen Barry has pulled out of the Delhi Commonwealth Games.
The 21-year-old made the decision based on a fear of the security arrangements.
She was due to partner Marina Erakovic in the women's doubles.
She joins cyclist Greg Henderson as the only other member of the originally selected team of 193 to pull out because of security fears.
Cyclist Adam Stewart was forced to miss the Games after he was suspended for the attempted use of the banned substances EPO and HCG.
"It all happened in the last 24-36 hours while everything else was on," New Zealand chef de mission Dave Currie said.
"It will impact on Marina's doubles hopes. She is also going to be a day later, she is due tomorrow [Friday]."
Currie is disappointed but accepts athletes are free to make their own calls.
"Most people have trusted our judgement, given the length of time we've been doing it. It weighs heavily on us that we make the right decision and we've been grateful for that support from most sports. We've appreciated the faith we'll make the right call. However, there will be no recriminations."
Neither Henderson nor Barry approached the NZOC first to check about going.
"Nobody rings you up," Currie said. He also conceded other athletes might make the call once they are in India. In that case he said he was happy to facilitate other athletes going home.