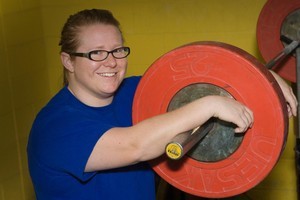 Life would have been rather different for Tracey Lambrechs had her parents not thought New Zealand had something to offer.
For a start, the 25-year-old weightlifter would not be preparing for the Commonwealth Games as one of New Zealand's seven lifters in New Delhi.
Her family moved from Boksburg, near Johannesburg, 11 years ago.
"I miss the food, I miss my friends, but I have a lot more opportunities than I would have had back home," Lambrechs said.
"And I don't think I'd ever have got into weightlifting if I was still back in South Africa."
Lambrechs is one of two women in the New Zealand squad. She is in the over-75kg class, with Kate Howard, a former Welsh Games representative, who will lift in the under-53kg category.
Lambrechs came to the sport at about 17. She had been doing weight training for her athletics when her coach suggested she try weightlifting.
"All I knew was to snatch and clean, I didn't know about the jerk and all the rest of it. But it was quite a different experience and quite a lot of fun."
Having won a shot-put bronze at the Oceania champs seven years ago and thrown the hammer, the-then Glenfield College pupil warmed to a new sporting challenge, backed by encouraging words from the lifting fraternity.
"They told me I had a lot of potential and what I could expect to achieve if I became a fulltime lifter."
Lambrechs won bronze at the Commonwealth championships in Malaysia last October, so she's had a taste of international competition, but knows this will be a significant step up.
"It will be a massive learning curve," she said, talking of hosts India, African countries such as Nigeria and some of the island nations as having solid medal contenders in the women's disciplines.
New Zealand women lifters have brought back medals from the past two Games, the only ones in which they were allowed to compete. "There's a fair bit of pressure on Kate and myself, but it's a really good challenge."
Her personal bests are 98kg in the snatch, 122kg in the clean and jerk.
She knows she needs to be snatching above 103kg and aim towards 130kg in the other discipline.
She's identified her toughest rivals, an Australian and Niuean.
Lambrechs, who works at the Millennium Institute as receptionist and instructor, knows she'll need to be right on her game in Delhi. But that's okay.
"When you get to a competition, the adrenalin rush is amazing."
Her eyes are on the London Olympics in 2012. First things first though, and a strong performance in India will equate to a decent step in the right direction.