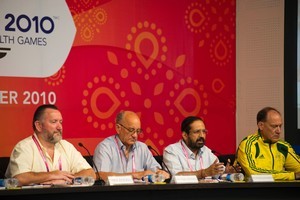 A power cut, an unhappy Botswana delegation and a snake in a room - all in all it was a pretty quiet day in the Delhi Commonwealth Games village.
With less than a week to go until the curtain is raised on the Games, athletes and officials have started to move into their accommodation that was deemed uninhabitable just days ago.
Feelings remain high among organisers and officials as to who is to blame for the debacle and New Zealander Mike Hooper, the Commonwealth Games Federation chief executive, remains in the gun for his handling of the event.
However, yesterday he received support from a predictable source - his colleague.
CGF president Mike Fennell said Hooper had been the subject of unwarranted attacks by local media who believe he has washed his hands of any culpability and has instead blamed the Indian people.
"Far from any emotive commentary, Mr Hooper merely stated the fact that the responsibility for delivering and operating the Games lies with authorities in India, as per the Host City contract," Fennell said.
"What I have witnessed is a vicious and totally unwarranted attack on Mr Hooper based on entirely false reports."
Few have emerged from the sorry mess with any credit, but at least some positivity is beginning to emerge.
Australian chef de mission Steve Moneghetti said the first athletes to arrive enjoyed a "smooth transition" into the village.
New Zealand chef de mission Dave Currie spent Sunday night in the village ahead of the arrival of athletes today and reported that the lights had gone out for a while, but that there was more consistency in the power supply.
"Critically, the fire safety measures are now satisfactory," Currie said.
"We're still working hard to prepare the village for athletes' arrival. We must provide a safe and secure environment."
Any ordeal he faced paled in comparison to the incoming South African athlete who found a live snake had taken first dibs on his apartment.
"I don't know whether it was an Indian snake, but it was there in one of our rooms," said South African high commissioner Harris Mbulelo Mejeke. Botswana arrived at the village and reported that their accommodation was far from acceptable, with filthy bedsheets and construction materials littering the rooms.
The African nation is now another looking at alternative hotel accommodation should their rooms not be ready for the influx of athletes.
There is concern, too, that the plethora of problems associated with the village have ended up taking the emphasis away from the security of athletes, officials and spectators.
New Zealand fans have been warned against displaying their patriotism too boldly after a threat that those people from countries involved in the war in Afghanistan could be targeted by Muslim extremists.
Fennell admitted there were still huge concerns about the security and safety of athletes and officials, particularly away from Games venues and the village.
Athletes' Federation boss Rob Nichol said that was why it was important to receive assurance from the NZOC that their athletes would be kept within the Games bubble.
Nichol said there were still concerns over the implementation of security plans, particularly while athletes were in transit, and the execution of emergency response procedures as the late handover of venues had left little time for testing.
New Zealand middle distance runner Nick Willis completed his Commonwealth Games preparations with a sixth-placed finish at the Fifth Avenue Mile race in New York yesterday.
Willis, 27, who has been back racing for a month after a hip injury, which followed knee surgery in March, clocked 3 min 54.81 sec for the 1600m race down Manhattan's famous Fifth Ave, which he won in 2008.