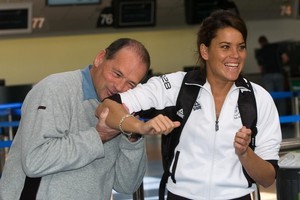 Kiwi Commonwealth Games bosses have continued their war of words over who is to blame for the Delhi debacle.
New Zealand played a lead role in news breaking round the globe about the "uninhabitable" conditions in the athletes village, with chef de mission Dave Currie leading the global condemnation.
Attention then spread to New Zealand Olympic Committee leaders Barry Maister and Mike Stanley - as well as New Zealander Michael Hooper, the Delhi-based chief executive of the Commonwealth Games Federation.
But Hooper has hit back at criticism from NZOC secretary-general Maister and president Stanley.
Hooper is defending any perceived lack of action by the CGF. He says Games organising committee chairman Suresh Kalmadi tried to get him recalled to the Commonwealth Games office in London a year ago for being too demanding.
"Go back and Google it," Hooper says. "Mr Kalmadi was trying to get me thrown out of the country because I was too outspoken and pushing them. We've consistently gone on about the safety of the village and venue buildings. We were trying not to hide things. So I'm frustrated these comments are now being made.
"I'm disappointed people are starting to play these finger-pointing games. Let's have the post-mortems later. I know the CGF has done everything they can to encourage, cajole and get people moving.
"As far as I'm concerned the members have been fully informed, that's why we had a chefs de mission meeting in March last year. We shouldn't be looking back in hindsight saying 'this and that should have happened'."
Maister claims the CGF could have done more: "We sent a delegation to the village four months ago and did not see the tower we were going to be in, nor did any other country, nor did the evaluation commission who went to check out the village. The CGF has a lot to answer for in that regard. It was their job to ensure the village was ready for habitation."
The first New Zealand athletes will move into the Games village on Tuesday, while the Black Sticks women's hockey team left Auckland yesterday.
Black Sticks player Emily Naylor said the players were excited and determined to be there.
"I guess both [security and health concerns] are still a bit of a worry but obviously looking better and better," she said.