Delhi is not the first Commonwealth Games to face sanitation, social and security issues. Andrew Alderson looks at past examples.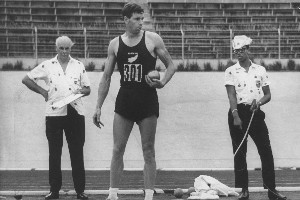 The debacle in Delhi is not the first Commonwealth or British Empire Games to strike trouble before or during an event.
Hygiene and racial disharmony affected the Games in Kingston, Jamaica in 1966. Kingston, Kuala Lumpur and now Delhi are the only three cities outside Britain, Australia, Canada and New Zealand to host the event.
Roy Williams has been to three Commonwealth Games as an athlete and covered five as a journalist, as well as four Olympics. He won the decathlon gold in Kingston, the first time that discipline had been introduced.
Williams says the environment was filthy and intimidating: "On arrival, my roommate and I spent an hour killing cockroaches at our University of the West Indies accommodation."
They were also left with a salty taste in their mouths after seeing one of the sources of the iced orange drink they'd quenched their thirst with.
"We were out walking and saw the two-foot cubes of ice sitting outside the dining quarters. They used to take them inside and chop them up with axes to put in the drinks. The great cricketer Sir Frank Worrell was a warden on campus and his dogs roamed about, cocking their legs on the ice."
Jamaica got its independence in 1962. Williams says racial friction was still evident, given most had descended from slaves to white landowners in the sugar cane industry.
"I could understand the animosity. There was a lot of ill feeling," Williams says. "The first day we went down to Kingston and there was a guy there who looked like Bob Marley with Rastafarian hair.
"I thought: that'd make a great picture for the folks back home. I got about 10 feet from him and he pulled out a machete. He said 'no white man takes my picture. Give me your camera or I'll chop your head off'. From memory [throwers] Les Mills, Robin Tait and [weightlifter] Don Oliver [all enormous men] sorted the situation out."
Williams and the team also had difficulty on the way to Cardiff in 1958, where he competed in the long and triple jumps. They stopped at Kolkata on the way.
"We'd just taken off from what was then Dum Dum airport. We got about 20,000 feet up after half an hour and I looked out the window to see one of the bloody propellers had stopped. We jettisoned the fuel, then spent the next 24 hours in Kolkata.
"We were told not to drink the water but it was stinking hot so the whole team had orange drink with ice in it. The ice had bugs in it so the whole team became riddled with dysentery. We were crapping all over the place by the time we got back on the plane.
"India was a bizarre environment then. A 10-piece orchestra would play to us over dinner in the hotel, then you'd walk out into the poverty on the streets as sacred cows worked their way down the sidewalk, also crapping all over the place."
As a journalist, Williams got another shock on a reconnaissance mission ahead of the Mexico City Olympics.
"The week before I got there, the students had revolted, claiming too much was spent on the Games and not enough on the poor. The cops lined them up and shot hundreds of them. There was still blood on the walls of the university when I arrived."
Rather than dwell on those experiences, Williams wants something to be learnt from the Delhi scenario.
"Great care must be taken as to where they allocate future Games. You can't just give it to a city because they haven't had a Games before. There's only about half-a-dozen countries capable of running them in the future because of health, security and size reasons."
It might be of comfort to today's athletes to know Williams' adversity in Kingston made him compete harder.
"I cut myself off from the environment and was able to get my whole mindset on to winning. The previous three Olympics, I'd missed selection, so I was determined to stick it up the selectors for leaving me out.
"I'd roughed it a fair bit in my late teens and early 20s around New Zealand, hitchhiking with the likes of Murray Halberg and staying in camping grounds. It didn't worry me."
Williams would still get on a plane if he was an athlete selected for Delhi: "I'd go ahead. Any day you could get killed by a drunken driver or run over by a bus. That's life and when you train for two to four years of your life, you can't just walk away."
* * *
Black Caps captain Daniel Vettori has plenty of Delhi experience, having played for the city's Daredevils cricket franchise over the past three seasons in the Indian Premier League. He is also a Commonwealth Games bronze medallist from the sport's sole appearance in Kuala Lumpur in 1998.
He says some of the fun has been taken out of playing sport at the highest level because of the extent of security.
"One of the great experiences of playing international cricket is touring the subcontinent. It's so vastly different and quite an eye-opener. But those at the Games won't be experiencing the same things as when I first toured.
"When I first went over, pre-9/11, guys could walk out of their hotels and everyone was comfortable with that. Last year in the IPL, we were basically locked inside the hotel. We were unable to experience anything the city had to offer.
"With us, it's just a cricket team, whereas at the Games, you've got around 7000 athletes. However, cricketers have recently based decisions on the recommendations of New Zealand Cricket and the Players Association. If the athletes are getting similar advice to what we get - and feel comfortable with it - then that's fine but each group has to make up their own minds."
Former India cricket coach and Black Caps opener John Wright has called for patience and understanding ahead of the culture shock Commonwealth athletes will encounter.
Wright earned wide-ranging respect in India as coach of the national side from 2000-05. He took them to a World Cup final in 2003 and a drawn test series in Australia the following summer. In 1988, he captained New Zealand to one of their two test wins in India.
"Things have a habit of being right on the day in India. When I started as coach I'd worry about where the team was going to practise, where the balls were coming from and then somehow - as if by magic - it just happens.
"But organising a cricket practice is a slightly smaller undertaking than a Commonwealth Games," he says, employing his famed dry humour.