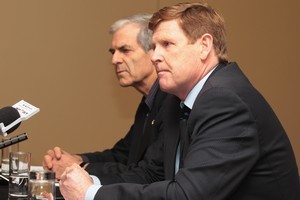 The New Zealand Olympic Committee (NZOC) bosses want to see a more robust bid process and a scaled-down event when future Commonwealth Games hosts are appointed.
It comes as the saga continues in Delhi, with the Indian capital desperately readying itself for the arrival of athletes this week.
Outgoing NZOC secretary-general Barry Maister and president Mike Stanley believe a revamp is required to evaluate host cities before they enter the bidding process. Maister was voted in as an IOC member earlier this year. He is currently on the sub-committee looking at bids for the 2018 Winter Olympics.
"We are sending a team for a week to look at each site. It consists of IOC members and technical officials in each sport. They probe with a week of questions, looking at transport plans, venues and budgets to make sure a city can deliver.
"The process needs to be stringent. That is what the CGF [Commonwealth Games Federation] must learn from this. They need to ascertain if a country has the capability. India does, but needed to be tested more for its ability to deliver on time. What they showed us in the village last week was unacceptable and inexcusable. They [the organisers and the CGF] deserve to be slammed for it."
CGF chief executive - and former NZOC boss - Michael Hooper believes the process to appoint Delhi was fair, open and in-depth.
"It was out of Delhi and Hamilton [in Canada]. Each individual Commonwealth Games Association, including New Zealand, had a vote to decide where the Games should go. Hosts also only have to put on a minimum of 10 and a maximum of 17 sports [Delhi has 17]. That is far more flexible than the IOC who have a firm 28 [for summer Games]. I might be naive, but if someone wanted to take a back-to-basics approach they could. Scaling back could be part of the bid process."
Stanley, who wryly observed the Delhi Games will be remembered as "exceptional" rather than the often cliched reference of "best ever", says they need to avoid sentiment and reward a more analytical approach.
"The process needs to be outsourced to independent agencies to report back. The CGF do that to an extent but have not been as advanced as the IOC. However, they don't have the same resources either.
"For instance, we organised people from overseas to look at the potential Auckland 2018 bid. That's why we didn't go to the evaluation stage. The plan for Delhi was world-class but the problem has been in delivery. People will be more wary in future on where the Games go."
Maister says the answer lies in scaling back the event so more nations can afford to host.
"The cost is grossly over the top. I've heard figures bandied about anywhere between US$2-4 billion. When we thought about bidding in 2018, we wanted to bring the Games back to a level commensurate with the Commonwealth. A large number of nations are small and not well off. If New Zealand can't get across the line to bid, then the formula is wrong.
"It shouldn't be about trying to outdo the last hosts. The Games need to be downsized and we intended to lead the way. Talking to the Gold Coast, who are bidding in 2018, they think likewise and are basing it on that type of plan."
Maister says that doesn't mean cutting back on sports: "Instead it means not building as many new venues and making do with facilities you already have. Instead of a 40,000 seat athletics stadium, why not settle for a 20,000-seater that can be used afterwards?
"It is common sense. We see excesses in the system and want to drill those points home at the Commonwealth Games executive meeting this week. We will be telling them why we didn't end up bidding."
The Chef de Mission to the 1998 Kuala Lumpur Games, Les Mills, says the future is promising with Glasgow next then potentially Gold Coast.
"You'd want fairly cast-iron guarantees from countries outside Canada, Australia or Britain. Another country would have to have a history hosting such events. South Africa could be an option, given the recent success they had with the [football] World Cup."
Stanley is adamant the Games have a future even if they sit low in athletes' priority judging by a number of high profile absences, such as Olympic champions Usain Bolt and Sir Chris Hoy.
"They still have an important role. It is a wonderful opportunity to participate in a multisport environment under the media spotlight. I hope the lessons are not to upsize further.
"Inevitably the commercialism of sport will siphon off the very best athletes but, for many sports, they [the Games] are a vital part of the programme."
Maister agrees: "It's still an important event for many athletes. I know the general public can be dismissive but it is the pinnacle in the careers of some. It is their 'Olympics', not just a throwaway event."