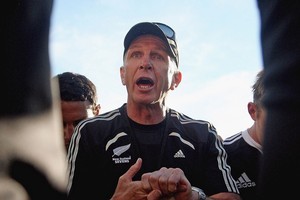 Gordon Tietjens remains unimpressed he has still not received confirmation that his sevens team will be transported in bulletproof buses at the Delhi Commonwealth Games.
The question was raised by a member of his squad ahead of the athletes' and managers' conference call on Wednesday night.
Tietjens was hoping to have an answer by now. The concerns are valid after a tumultuous week which exposed further cracks in the Games' facade on the security and logistics front.
They are also valid following incidents such as the shooting of two Taiwanese tourists on a bus in Delhi last week and the ambush of the Sri Lankan cricket team bus, travelling to the Gaddafi Stadium in Lahore in March last year.
Eight people, including six policemen, were killed in that attack, while seven cricketers and an assistant coach were injured.
Tietjens wants to ensure his team are not soft targets: "I have got some players with plenty of concerns. They [the Indian officials] don't inspire a lot of confidence that they've got everything under control. Just last week, I've seen a bridge and a roof collapse. Where was the inspection to meet building standards?
"I'm taking away a team with up to five players who are really concerned. Understandably they're under a lot of pressure from their partners, wives and families, yet I've got to know that these players I've selected are totally focused on winning a gold medal.
"I'm worried a lot of them won't speak up for fear of letting the team down. Perhaps going over there to represent your country as an individual is an easier decision to make, as we've seen in the past few days, with athletes like the world champion discus thrower from Australia [Dani Samuels] pulling out.
"In a team situation, you mightn't get people speaking up in the same way. They'll end up going reluctantly and that could hinder the team's performance."
Security consultant Gary Aschenberger is in India researching the Black Caps tour in November and December on behalf of New Zealand Cricket and the Players Association.
He will also be with the team on tour as someone with 18 years of counter-terrorism experience, including stints protecting American presidents Bill Clinton and George W Bush on their visits to Australia.
Aschenberger says unfortunately the idea of having bulletproof buses is not feasible.
"It's hard to go to that extent. As an alternative, I'd want detailed security checks on all the bus drivers.
"It's also important to ensure drivers have training in escort formations, as well as offensive and defensive driving."
His advice would help avoid a recurrence of the Lahore attacks, where gunmen waited in hiding to ambush the bus along a designated route to a venue.
Athlete bus lanes in Delhi are also intended to make it harder to execute such a guerrilla-style attack - as they will be free of traffic and therefore should not get blocked in and become stationary as the Sri Lankan bus did in Lahore.
As coach of the New Zealand sevens team since 1994 and with three Commonwealth golds to his teams' credit, Tietjens can hardly be accused of lacking travel or management experience. Consequently this ranks among the toughest assignments of his career.
"I haven't been to India but I'm struggling to look forward to it. I want a team that is focused on defending a title rather than this stuff on the periphery. The other day I saw [team member] Zac Guildford saying his Mum didn't want him to go when he wants to. That creates a mixed message and it's not good.
"I'm worried about the health side, too. Any tour on the world series has good food and accommodation. It means you can concentrate on your core job."
As someone with huge credibility in New Zealand sport, Tietjens feels comfortable speaking his mind, unlike other Kiwi sports representatives on their first tour.
"I know many others share my thoughts regarding the security of the buildings, the travel to and from venues and nutrition. In the end, you have to make a choice. I still want to coach the New Zealand team there. You take it on trust.
"I'm putting my trust in the Government and the likes of Barry Maister representing the NZOC [New Zealand Olympic Committee]. Rob Nichol [as head of the Rugby Players Association and Athletes Federation] has also been gathering a lot of valuable information."
Tietjens will get the benefit of an eight-day competition buffer zone before his team competes. The squad assembles in Auckland on Wednesday for two days of training, then flies to Dubai, where they will spend five days in camp before flying in to Delhi four days before the start of the sevens tournament on October 11.