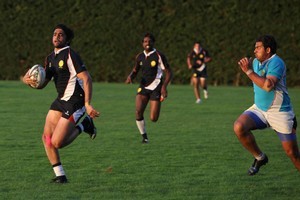 New Zealand rugby sevens coach Gordon Tietjens, 2002 Commonwealth Games gold medallist Craig de Goldi and a recommended 15 eggs a day have played key roles improving the Indian sevens team's chances at their home Games in Delhi.
The Indian team visited New Zealand for some coaching tips in April and May - mainly through Murray Mexted's International Rugby Academy of New Zealand (IRANZ) - so they are better equipped to compete at the tournament.
It may also save them potential embarrassment in front of their fans in group matches against opponents from Wales, South Africa and Tonga.
Given the Indians are not a serious medal contender, Tietjens was quick to identify areas for improvement.
"They'll be competitive to a certain level, but will obviously struggle against bigger sides.
"What they learnt from practising against my guys was that they lacked the fitness levels and physicality required.
"They were quite good on their feet but didn't have the size to compete in contact situations."
That's where the eggs come in. Fifteen a day was the recommended dose from one of the South African-born coaching team, Norman Laker.
He suggested each team member have six for breakfast and somehow find time to shovel in nine more over the course of seven meals a day.
The idea was to take the team's average weight from a mid-70kg range up to a 88kg-plus bracket.
They have not bulked up as planned but part of the problem is the simultaneous need for size and speed on the sevens field.
De Goldi worked with the team to clock up some of his practical hours towards a coaching diploma from IRANZ. The 34-year-old returned in January from six years playing in Japan and was looking to get coaching experience.
"I took them for an intense couple of weeks in Palmerston North. They even had sessions with a psychologist and a skills coach.
"They were respectful young lads, quite a few were in the army. They were keen to learn and never complained. They did what was put in front of them. I also brought in the expertise of sevens veterans Karl Te Nana and Christian Cullen to help."
Playing under Tietjens for six years means De Goldi has a fair idea what works: "Fitness is a key to sevens with the need for repetitive speed. They weren't fit when they came in. I only had two weeks with them but wanted to show them how to be competitive so they could enjoy it more as well.
At one point, De Goldi pitted them against the Manawatu side.
"Manawatu were bigger and stronger but sometimes the Indian boys could have played smarter. We addressed that later with some video analysis to help them shore up and break defences."
However, the problems for the Indian coaching staff extend beyond rugby skills.
"The captain worked as translator," De Goldi says. "There were a few Tamil boys from the south of the country who didn't speak Hindi or English. It was bizarre because it meant there were four guys most of the team couldn't speak to. Some didn't know where others lived or what they did for a job. It was a case of breaking down barriers."
India has improved its ranking over the past year from the 83 to 73 among the 95 registered IRB countries. The Asian sevens test event in Delhi has been a high point to date, where they finished fourth.
Unfortunately the team might struggle to leave a legacy. There are eight sevens training grounds across the city, all of which will be converted to cricket fields post-Games.