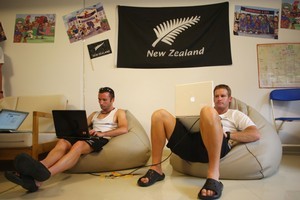 The Commonwealth Games aren't as glamorous for athletes as some might imagine. They face a monotonous routine of strict security measures, regular hand washing, food monitoring to the point of paranoia and a daily diet of sleep-eat-travel-compete within a bubble where they will see little of the real Delhi.
Andrew Alderson finds athletes have a variety of ways to stave off cabin fever.
Steve Clifton, archery
"I usually travel with an external [computer] hard drive with a few games, movies and TV shows on it. I'm reading the Harry Potter books at the moment, too."
Jan Khan, bowls
"We try to play games as a team, even if it is just kicking a soccer ball around to keep ourselves occupied.
Card games like euchre and 500 get a whirl and I love a bit of rummikub [the board game]."
Liz Lamb, track and field
"I'm taking some study with me - some second stage commerce papers. I enjoy being able to work my brain and my body. My Bible will keep me strong, too. I can't remember the exact chapter and verse but the one I'm taking with me goes something like: 'With Him you can achieve immeasurably more than you can ask or imagine.' That works with high jump because I don't want to place any limitations on what I can achieve on the day."
Melissa Ingram, swimming
"I like lounging around on beanbags in the village watching the odd chick flick to take my mind off swimming. The staff are also trained as baristas to make good coffee, which suits me. I'm also intending to read The Bronze Horseman by Paullina Simons."
Dean Couzins, hockey
"We enjoy the odd poker school with a $5 buy-in limit. The social committee always works hard to organise a spot of BYC [backyard cricket]. That's what we did in Delhi earlier in the year after we drove past the India Gate and saw all these games in action.
It's also great to sit down with other athletes to watch their specific sport on television at the village. You can get a real insight into why they do certain things. It's like having your own expert comments person on hand."