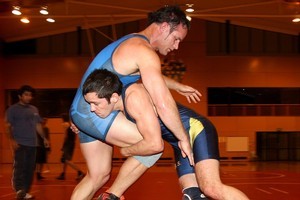 Life could have been markedly different for Andrei Paulet had he not had determined parents.
The Auckland wrestler moves his sporting ambitions forward when he steps on to the Commonwealth Games wrestling mat in New Delhi next month.
The 22-year-old will compete in the under-66kg category as one of six New Zealand representatives, who also include the country's first woman, and one grappler in the Greco-Roman class, Christchurch's Sam Belkin.
But Paulet's story is a little different.
He was born in Deva, a town in the Transylvanian region of Romania.
His parents, Peter and Maria, had good jobs but there were some early difficulties.
"We were living in a bad neighbourhood full of gypsies and bad influences around," he said.
"My parents pushed me into doing sports rather than being outside with others wasting my time."
He started with karate when he was about 6, followed by a stint doing judo. Soccer was an early favourite, and he still remains keen on it.
But when a classmate asked him to go to wrestling practice, the die was cast.
"I was 9 at the time. I went to training and fell in love with the sport," Paulet said. "My coach saw from the first day that I had big potential in becoming a good wrestler, so he kept me focused and was like a second father to me."
Paulet is also honest to admit it helped remove some early bullying tendencies. The discipline involved with the sport assisted in his change of outlook. Training six times a week after school helped keep his mind and body occupied.
Paulet competed at national level through the age groups, was national cadet champion in 2003 and this, remember, in a country where wrestling is a far bigger sport than it is in New Zealand.
In 2005 he emigrated with his parents - and he hopes sister Ramona will join them soon - is doing a diploma in business and fitness in Auckland and, with his New Zealand partner Amie, is a proud father of 20-month-old Iani.
Paulet doesn't hide the fact that life has worked out well.
"My dream was always to be able to compete in events like the Commonwealth Games, world champs and Olympics, so it's a dream come true for me."
And the appeal of wrestling?
"When you wrestle you only count on yourself, not others," he said. "It's a very competitive and complete sport, that's why I love it."
And if he gets to the podium in New Delhi, Paulet will doubtless spare a thought for parents who ensured an impressionable youngster stayed on the right path.
New Zealand coach Mark Grayling is optimistic about Games prospects.
"If all goes well on the day and we wrestle to our best all six are capable of taking a medal," he said.
The cut-throat nature of the sport - one loss and you're out - leaves no room for error.
The only escape shute is if the grappler is beaten first up by an eventual finalist, the fighter gets a repechage opportunity to try for the bronze.
"It can be tough," Grayling said. "You might be the third best wrestler in the weight group and come 10th because of the draw."
They have had a solid build-up, with European competition and training plus a trip to the world champs in Moscow this month.
And the difference between the standard freestyle and Greco-Roman, which has been at every Olympic Games since 1908?
Greco-Roman forbids holds below the waist and has a greater emphasis on throws, with trips not permitted, nor avoiding being thrown by grabbing an opponent's leg.
ON THE MAT
* New Zealand is sending a team of six wrestlers to the Commonwealth Games in New Delhi - Nick Lane (Wellington, under 120kg); Aaron Quinlan (Hamilton, under 96kg); Stephen Hill (Christchurch, under 84kg); Andrei Paulet (Auckland, under 66kg); Sam Belkin (Christchurch, Greco-Roman); Sian Law (Wellington, under 51kg)
* Dating back to 1938, New Zealand wrestlers have won 25 Games medals, including three gold - Auckland's John Armitt (featherweight) and Doug Mudgway (Hawera) in 1950 and Dave Aspin of Auckland in the middleweight division in 1974.