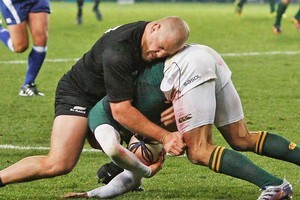 All Blacks tighthead prop Ben Franks has replaced brother Owen for Saturday's Tri-Nations rugby test against the Springboks but says he is getting used to such familial heartache.
"I've had to deal with it with the Crusaders, it's always been one of us starting, or me moving to loosehead or one of us on the bench. We haven't spoken too much about it this week, it's just part of rugby, although it does feel a bit odd," Ben Franks said.
The older Franks brother will be up against Gurthro Steenkamp on Saturday and was quick to point out he will be in for a tough evening.
"I've played a lot of Super 14 against Gurthro and the two tests in New Zealand and he has been playing really well. He's a big part of their scrum," Franks said.
Despite critics suggesting the All Blacks' fluid game plan meant they were trying to avoid set-pieces, Franks said the team still put plenty of work into their scrums.
"I don't know where that talk comes from, at training we do scrums every time. In fact, we spent an extra half-hour on them today," he said.
Forwards coach Steve Hansen on Wednesday defended the inclusion of the 26-year-old Franks ahead of his 22-year-old sibling.
"Ben has been in good form and we just felt Owen, for a 22-year-old, has played a lot of rugby. It's not so much physical fatigue as mental. It's a big job at tighthead prop, it requires a lot of mental fortitude. We want Owen to play for a long time," Hansen said.
- NZPA