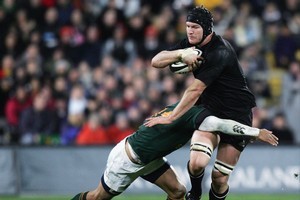 Ali Williams could be free to play for Scotland and Benson Stanley for Australia if a breakthrough rugby eligibility deal is clinched this year.
The change is by no means guaranteed but, if supporters get their way, the new laws could allow players to represent two tier one countries (all Six Nations and Tri Nations countries, plus Argentina) in their career.
Williams, who is qualified for Scotland, could stand down from test rugby for 12 months then play for the Scots. Stanley, born in Australia, could do the same before becoming eligible for the Wallabies.
The move for change follows the watering-down of proposals to the International Rugby Board, in a push to change eligibility rules late last year.
Currently, the IRB's recommendation is that players could turn out for a country's 'second' national team, such as the New Zealand Juniors, and not have their eligibility captured.
The new plan says players can also be selected in a national team's match day squad of 22 and remain free to switch allegiance as long as they don't take the field.
The proposal has been rubbished for not going far enough - and for encouraging the ludicrous situation where two players could be on the bench for the All Blacks, for example. One plays for one minute and the other doesn't - leaving the former captured and the latter free to try his luck elsewhere (if he's dual-qualified).
The New Zealand-backed proposal at the end of last year was designed to allow individuals from tier one nations to stand down for 12 months and play for a tier two nation, as long as they were eligible.
IRB politics intervened.
A minority group, thought to be the Celtic nations, disputed the legality of the proposal and successfully argued that it was discriminatory.
The suspicion is they feared how quickly the likes of Samoa, Fiji and Tonga could improve if the laws were changed. They drove the watered-down IRB recommendations.
Those diluted proposals, however, are likely to be rejected by a handful of heavyweight nations, as well as key international player associations.
New Zealand, the Pacific Islands, Australia and South Africa would prefer to see the original concept adopted - or, if that is still blocked, a new move so players could shift between any rugby countries, as long as they met eligibility rules.
That means someone such as Ali Williams could declare himself unavailable for the All Blacks, stand down from test football for 12 months and then play for Scotland.
Any player switching countries would come under tighter eligibility criteria for his second nation. He won't be able to qualify on residency grounds and it's probable that the birth of a grandparent in that country would not be good enough.
But, even with tighter criteria, there would still be huge numbers of players qualified to switch allegiance and make a significant difference to the world rugby landscape.
Jerry Collins, Chris Masoe and Rodney So'oialo, with 120 All Black caps among them, were all born in Samoa. Sitiveni Sivivatu and Joe Rokocoko were both born in Fiji.
The International Players' Association is supporting the change, as it believes a number of developing nations could be instantly strengthened. There are significant numbers of experienced All Blacks, senior men no longer wanted but still quality players, who could become available.
That could be an escape route for players such as Kevin Senio, whose five minutes with the All Blacks could be wiped and he could enjoy a long career with Samoa.
Rob Nichol, head of the New Zealand and International Players' Associations, says the new proposals would not encourage players to change nations.
"The reality is that players will look to pursue professional rugby careers in tier one unions if that option is open to them regardless. They do now.
"To continue to prosper, international rugby must be seen to be genuinely competitive across a broadening base of national teams.
"This is especially important for the likes of Rugby World Cup. A successful national team acts like a shop window when seeking to encourage participation and attract young talent.
"This small group of experienced players will make a real difference to the tier two and tier three unions they represent.
"This proposal represents a cost-effective and tangible initiative to improve the playing ability and health of the game without compromising its integrity."