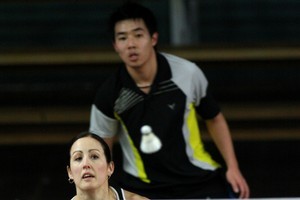 Most athletes can trace a pivotal moment in their careers, those events which prove the making or breaking of them.
For Donna Haliday, there were two. Had there been just one, this story most likely would never be written. The outcome of the second is a trip to October's Commonwealth Games as one of New Zealand's eight-strong badminton team.
Raised in Ohakune, where her parents ran the small local badminton club, Haliday fell in love with the sport when a Badminton New Zealand road show came through town. It included the then top-ranked woman, Rhona Robertson, an Olympic Games representative and three-time Commonwealth bronze medallist.
"She came to our house for lunch and after I saw her I thought, 'wow, I want to be a top player like her'. That inspired me a bit."
So for years she worked her socks off, often alone, and driving a couple of hours to Palmerston North for training twice a week.
Haliday made the national development squad. Things looked good, before she received a kick in the teeth. A prominent coach, whom she won't name, told her she would never make it.
"He told me that I was never going to be good enough because I had bad technique, bad footwork and I was too old," she said. "I was 16."
So Haliday stopped playing competitively for five years and "just got on with my life".
It hurt because "it felt like opportunities had been closed to me. He was in charge of who got into what squads, so if he thought that of me, then I had no chance of getting to the top while he was there."
Then, at 21, Haliday had one of those "stuff this" moments, and let's call this Crunch Moment No 2.
"Something in me decided I wanted to give it another shot."
Perhaps fortuitously, said coach departed around that time. Robertson invited Haliday to Auckland to be part of a reserve national squad, and helped organise a job at Auckland Badminton, where she's still employed as coaching manager.
Married for two and a half years to former national squad member Andrew Haliday, she was on the long list for the Melbourne Games four years ago. Now she's in and is chuffed.
"It has been a dream since I was little and I've had to work so hard to get there and overcome a lot of obstacles and negativity. It just makes me feel proud. The next step is to win a medal."
Times are tough for badminton right now. Officially there's no coach. Invercargill's Thanabalan Arikrishnan has been appointed for New Delhi, and former international Dan Shirley is helping the primarily Auckland-based squad members train.
Of the eight, the combination of Haliday and 22-year-old Henry Tam has the best prospects. They are ranked No 30 in the world in mixed doubles. Once non-Commonwealth athletes are removed, they sit about seventh.
Haliday and Danielle Barry are No 37 in the women's doubles which, once the deletions are made, should put them there or thereabouts too.
New Zealand's squad had a three-week camp in Invercargill, where Arikrishnan is based. They are just back from playing in Asia and return to Malaysia at the start of September for several weeks' training before heading to New Delhi.
Next week they have the national championships, followed by the Wisden Cup, contested by the country's leading provinces, both in Hamilton.
This is not a sport where players travel business class round the globe and possess professional contracts.
Michelle Chan is based in Denmark, one of the European strongholds. Otherwise they raise funds the old-fashioned way.
Haliday is grateful for assistance from her Mount Albert club, and a $20,000 grant from Cadbury's - one of several handed out to well-regarded athletes - but isn't looking too far beyond New Delhi. The London Olympics are two years away. That translates to finding thousands of dollars to support themselves with no guarantee of the right outcome.
"It would be nice, but we're all self-funded. To do that for the next few years will be very tough."
So the player the other squad members affectionately call 'Mum' will make the most of these Games. Medals might be a stretch but you never know.
And if the amiable Haliday manages to snaffle one in either of her two doubles events, you won't get the smile off her face for a while.
SHUTTLING ALONG
* New Zealand will field a team of eight in New Delhi - Joe Wu (Auckland), James Eunson (Southland), Henry Tam (Auckland) and Oliver Leyden-Davis (Waikato); Donna Haliday (Auckland), Anna Rankin (Southland), Danielle Barry (Auckland) and Denmark-based Aucklander Michelle Chan.
* Apart from 29-year-old Haliday, the next oldest is 24-year-old Wu, so the accent is on the future.
* New Zealand will field two players in each of the men's and women's singles, plus two men's and women's doubles, and two mixed doubles combinations.