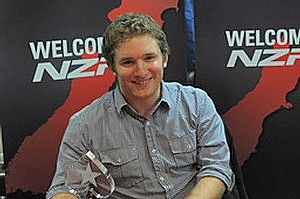 With Australian players making up eight of the nine places at the final table of the weekend's big poker tournament in Queenstown, it was no surprise to see the winner's cheque crossing the Tasman.
Julian Cohen, a recent university graduate from Melbourne, saw off all opponents to take the almost $75,000 first place prize in the SkyCity Alpine Adventure tournament, part of the New Zealand Poker Tour (NZPT).
The lone Kiwi to make the final table, Emerson Riwi of Rotorua, finished in 6th place, earning over $15,000 for his efforts.
Rewi is a 35 year old Department of Justice employee, married with one child. He finished 4th at the 2008 Auckland championships, but this was his biggest payday.
An original starting field of 119 players battled for a total prize pool of $267,750.
13 countries were represented, including Australia, United Kingdom, Canada, the Netherlands, Singapore, United States, Germany, Korea, Macau, Russian Federation, Spain, Switzerland and the United Arab Emirates.
But it was the cards on the table, not the outstanding mountain scenery through the windows of the SkyCity Queenstown hotel, where all eyes were fixed as the action drew towards a climax yesterday.
Sometimes in poker you don't need a spectacular hand like a full house or four-of-a-kind to win it all.
In fact, even a simple pair of twos, poker's lowest feature hand, would have been enough to win the last pot.
As it was, Cohen took the championship title from fellow Aussie student Andrew Watson with plain old Ace high, over Watson's King high. Watson took home NZD $46,800 for second place.
The big names in the main event didn't last through to the final stages.
Australian's Tony Hachem and Chris Levick, Singapore's Bryan Huang and New Zealand's Lee Nelson were all casualties of the early rounds.
Even Simon Watt, who became New Zealand's most famous poker face overnight with his bracelet win in the World Series of Poker, couldn't advance past day 2.
FINAL STANDINGS AND PAYOUTS:
1. Julian Cohen (Australia) $73,630.00
2. Andrew Watson (Australia) $46,860.00
3. Vesko Zmukic (Australia) $27,440.00
4. Michael Spilkin (Australia) $22,760.00
5. Tim Clarke (Australia) $18,740.00
6. Emerson Rewi (New Zealand) $15,400.00
7. Jason Gray (Australia) $12,720.00
8. John Maklouf (Australia) $10,040.00
9. Bryan Huang (Australia) $8,030.00