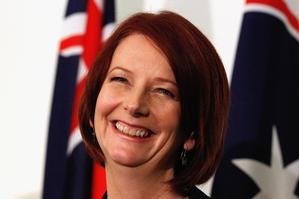 I don't know why I did it but I did. I accepted an invitation from my Croatian friend Oscar, the maitre d' at Banque, my local restaurant, to stay on with him and watch the All Whites play Paraguay.
The couple of hours from midnight when I committed to staying on with him worked their way drearily round the clock. We were three people, actually, a Croatian, a small Englishman and a Kiwi.
The Englishman fell in love with a New Zealand girl in England. She came home, he says. After a couple of years, he decided he loved her and followed her here.
You would have to call him slow. In the meantime, she has fallen in love with someone else. He remains hopeful. I told him to move on, that it was over.
Not entirely, he says. He had a posh voice and a good sense of humour.
He went to the best schools, though I didn't ask which, and is an engineer. He was making a lot of money but in the global meltdown lost it all and is now flat, stony broke.
But he remains very funny. He says he could get a job at $100,000 a year tomorrow but a hundred thousand is nothing. Nothing.
Oscar gets mad and boots him out. The Englishman disappears into the night.
Now it is Oscar and me. Oscar wants to talk World Cup. Roy Keane, the Irishman, walking out on the management at the '98 World Cup. Idiot, says Oscar.
I vaguely remember this. The misery of the French side this year, with the coach sending star striker Nicolas Anelka home and the players emerging with a list of demands. Oscar marvels at this and laughs his head off.
I, in turn, tell him I'm still stunned by the sight of Zinedine Zidane losing his rag in the final minutes of the France-Italy final at the last World Cup and head-butting the Italian.
We discuss what the Italian must have said to him. Something about his sister, I seem to remember.
Ah, says Oscar, but language is a funny thing. You can say to someone in one language "I f****d your mother" and in another language it means simply: "Hi, how are you, good to see you."
I think about this and wonder if Oscar's example is entirely right. Presumably Zidane was sure that the Italian was not greeting him thus. And certainly, in my limited facility with two foreign languages, I can think of no such translation possibility.
Oscar says it is going to be a great night for New Zealand. This is the World Cup of upsets. Look at them. France, Italy. Upsets. It will be a great night. He can feel it. He has an instinct. It will be a 3-1 victory over Paraguay.
Well, in the end, after a boring game, if I might so irreligiously describe it, Oscar's heroic prediction was not to be. But that was still to come much later, deep into the entrails of the pre-dawn morning. Right now, Oscar wants to talk about Tito.
Marshall Tito ruled Yugoslavia for 40 years. Oscar hardly remembers Tito but his mother loved him. It is true. Older Yugoslavians loved Tito.
He kept them together. The moment he was gone they went straight for each others' throats. So Oscar has been wondering about Tito and looking for Tito on YouTube. Oscar can't figure Tito out.
He says Tito talked strangely, that he didn't seem to have an accent from any of the particular Yugoslavian regions and nationalities.
He picked out words from the various languages and used them when talking to people who didn't speak that language or that slang. Oscar shakes his head. So do I. It's got me beat.
Oscar says Tito walked everywhere. He walked to Trieste to find work. I said that I travelled all over Europe for some years finding work. Oscar says: "Yes, but did you walk?"
No, I did not walk.
"Exactly," says Oscar. Tito walked to Spain and found work as a cobbler, says Oscar. Then he walked home. On good shoes by then, no doubt, I remark, wondering if even a good pair of shoes would give up the ghost somewhere between Madrid and Belgrade but finding it difficult to make an accurate assessment.
Back home there's a war on and Tito, whose name wasn't Tito at all, joins the bad boys in the hills niggling the Germans and the British back him and next thing Josef Broz is Tito and he's united the Balkans and is running Yugoslavia for 40 years.
Oscar talks about the pressure on referees in World Cup matches. His very good friend refereed the LA Galaxy match against the Phoenix in Wellington, he says.
The referee made a ruling. Next thing, David Beckham is in his face screaming. Oscar's mate the referee says calmly, "Mate, I saw you do it." Beckham walks away.
SO IT goes with me and Oscar until the game starts. It kicks off, it grinds on, it endures and then it finishes. And it's back home for the All Whites. The dream is over. But they did us wonderfully proud and I'm glad I stayed on through the night to see it happen. Or not happen, as it turned out. But the All Whites return unbeaten.
Which is better than Australia and the Socceroos. Which may be why the Australian Labor Party caucus decided to throw its toys out of the cot and dump Kevin Rudd. On Thursday came Julia Gillard's unstoppable, triumphant march into Rome.
Within hours, she had finished Kevin Rudd for good. Remember Kevin Rudd? Nasal-voiced bloke who was, until a short time ago, one of the most popular prime ministers Australia ever had. Gone. Poof. Up in smoke. Just like that.
Rudd's farewell speech was a strange, snivelling, long-winded, self-indulgent, self-righteous and emotional thing in which he listed interminably the record of his government's achievements.
They were such amazing achievements that you found yourself wondering why the party threw him out. Then you stepped back and looked at his insufferable performance post-caucus and you realised why. His wife stood behind him, off to the side, very close, stroking his back.
His teenage son, incredibly good looking, a potential teenage pop idol, stood silently on the right of the screen, inscrutable, with his father there holding back tears, blubbing on about making a difference for people with cancer.
Who knew what the boy was thinking of it all? He didn't seem connected with his father but he may just be shy. At least he was there. But the speech said it all. Rudd had imploded. He was a train wreck. No leader is deader than Kevin Rudd.
While the policy achievements might have been stunning, in the end the climate change failure and then the absurdly large tax on the mining industry did for him and the desertion began from all sides.
The tide went out on him, Gillard struck, Treasurer Wayne Swan betrayed him and suddenly Julia Gillard was Australia's first female Prime Minister.
She began her premiership most impressively. She came into her first news conference glowing, a cross between Margaret Thatcher, who always had perfect hair, and Helen Clark with her rationality, strength and fluency.
She spoke confidently. She offered a shrewd and immediate olive branch to the mining industry, moving even before she was sworn in for a de-escalation of the battle between the Government and the mining industry that had crippled Kevin Rudd.
We'll take our government-paid ads off television today, she said, if the mining industry does the same.
By the end of the day, the mining industry had done so. Somewhere in all of that, it occurred to me, a hard-working ad salesman is going to be paid a bit less, but never mind.
Gillard has more than a touch of Helen Clark. She also has a partner, Tim, a hairdresser. Presumably he does her hair. It is very red.
The Sydney Morning Herald observed that she re-dyed it at the weekend so everyone should have known something was up. But it is nice seeing a left-wing female Prime Minister who cares about her hair.
She has obviously had a little work on the forehead too, perhaps a little Botox. So she cares about how she looks. I like this. I don't know why.
It's nice when people want to look nice. I also like the word nice. I was taught at school it is a useless word but I've come to think you can say a lot of stuff with the word nice.
But as the former Labour leader Mark Latham observed the next day, the veneer of unity at the top of Gillard's Government won't last long. He said he doesn't know what the Victorian left did to each other in the 80s and 90s but they hate each other. So we'll see.