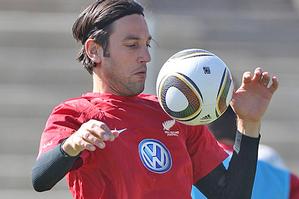 The FIFA World Cup is just days away, but if you can't quite bear to wait for the real action to start - or you're wanting something to whet your appetite during those long hours between games - the wonderful world of the internet has plenty to keep World Cup fanatics occupied.
Spanish football website marca.com has a very handy World Cup wheel calendar (in English, thankfully). One section of the wheel has teams, one has dates, another has locations and the final section has groups and stages. Move your mouse over any team, date, place or group and up pops details about all the games being played by that team, on that date, at that stadium or in that group.
English site football365.com, a shrine to all things football, has some cool functions too. As well as all the World Cup stats and trivia you could ever need, the site has a lookalikes section (send in pics of whoever you think resembles a World Cup star), quizzes galore and a music page where you can read interviews with your favourite musicians talking football.
ESPN boasts a World Cup site with all kinds of fun-looking games with big cash prizes - but don't bother, New Zealanders aren't eligible to enter. However, you can download some World Cup widgets that will keep you up-to-date with scores, news and your favourite teams.
You can play virtual World Cup football at Jimungo and keep tabs on how your friends are doing. Prizes up for grabs include an All Whites supporters kit.
If you really wish you were playing alongside Rory Fallon and the boys in South Africa, there's always EA Sports' free World Cup game you can play on your PC. Compete with friends or by yourself and "score the goal that lifts your nation to FIFA World Cup glory".
At football fan site oleole.com you can download World Cup wallpapers for your desktop and if you've got an iPhone there are countless World Cup apps. Tech Digest has a round-up of the coolest here.
All the UK newspapers have comprehensive World Cup sections on their sites but doing something a little different is the Guardian, with its World Cup Fans' Network - a collaborative project between the Guardian and its readers. At its core is a global team of 125 dedicated supporters who blog and tweet. Readers can rate players after each game, vote in daily polls, send in pictures and pitch their blog to feature in the daily paid-for blog spot.
- NZ Herald staff