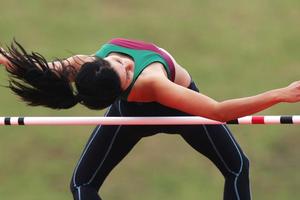 Auckland's 18-year-old high jumper Liz Lamb is likely going to the Delhi Commonwealth Games, barring accident, after leaping a height 10cm over her own head - like leaping over your own clothesline in the back yard.
High jump is not a sport normally associated with New Zealand blue riband athletic achievement, but Lamb has cleared the qualifying mark of 1.85 metres to put her in the frame for selection to Delhi in October.
"I just don't go anywhere near the bar before I jump," Lamb says. "I only look at it afterwards. [The qualifying jump] was a good clearance by at least a couple of centimetres - I didn't even touch the bar. At the last Games, Angela [McKee] took bronze with 1.83m.
"My routine involves an arc of nine steps from the right so I'm ready for a left foot take-off."
Lamb, who's into her second year as a science and commerce undergraduate at Auckland University, says it was a sport she became more comfortable with during her schooling at Epsom Girls Grammar:
"My legs were too long for sprinting, so high jump was more my thing."
Lamb will peak for the world junior championships in Canada in July before looking to do it again three months later in Delhi, should she be selected. So now is a time for a brief rest.
That is a break from tradition where, with coach Brent Booker, she has normally strengthened her legs over winter for a November start to the season.
In spite of the likes of Lamb coming through the system, New Zealand will struggle to emulate the numbers of four years ago in Melbourne, when 27 athletes picked up two gold, one silver and one bronze medal as well as 14 other top-10 finishes.
"We've got the expectation those selected will be in the top six," says Athletics New Zealand (ANZ) convenor of selectors Graham O'Brien. "But, at Commonwealth level, it's patchy.
"Twelve athletes have hit the qualifying mark but that doesn't guarantee them a Commonwealth Games spot," says ANZ high performance manager Kevin Ankrom.
"Past history at championships also counts. That's when you get into discretionary factors. It's not just hitting a mark, otherwise you wouldn't need selectors.
"Hopefully you understand my hesitancy to talk on the issue too, because we've been challenged on our selections in the past [for example by Liza Hunter-Galvan, who was consequently selected for the Beijing Olympic Games after originally being omitted]."
The process of nominating a team begins after the Australian national championships in Perth at the end of the month.
That is to give athletes plenty of time to start preparing, with the Games coming at a relatively late time of the year, after the European summer.
The ANZ selectors then nominate a team to their Olympic Committee counterparts, who are expected to make a final call in August.
The qualifiers:
Those who have passed the Commonwealth Games qualifying marks so far:
* Adrian Blincoe: 5000m
* Stuart Farquhar: Javelin
* Beatrice Faumuina: Discus
* Nikki Hamblin: 800m/1500m
* Liz Lamb: High jump
* Andrea Miller: 100m hurdles (currently injured, so will need to pass qualifying mark again before Delhi)
* Brent Newdick: Decathlon
* Kim Smith: 10,000m
* Val Vili: Shot put
* Rebecca Wardell: Heptathlon
* Monique Williams: 200m
* Nick Willis: 800m/1500m