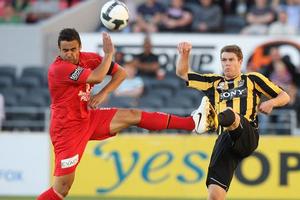 The Wellington Phoenix beat Adelaide United 1-0 at Christchurch tonight to get their A-League soccer playoffs campaign back on track.
A first-half strike by defender Jon McKain was enough to ensure the Phoenix gained a comfortable gap of seven points inside the top six over Central Coast Mariners who are in seventh spot.
Tonight's win also broke a two-match losing streak for the Phoenix while marking their first win in three seasons over last year's runners-up who are currently bottom of the table.
The return of Tony Lochhead at left back from a groin injury which caused him to be spelled for their last two matches, saw the Phoenix defence back at full strength.
The Phoenix were pinned in defence for about 20 minutes from kickoff but an understrength Adelaide attack were tentative.
Wellington turned the tide through Adrian Carceres who was lively on the left flank and rightback Troy Hearfield who produced some adventurous runs on the right.
McKain scored his second goal of the season in the 21st minute when he rifled home a drive during a melee off a corner which gave goalkeeper Eugen Galikovic no chance.
Adelaide then closed the half by forcing Phoenix goalkeeper Liam Reddy into twice tipping away dangerous headers by Mathew Lecki and Travis Dodd.
Coach Ricki Herbert had opted to use Paul Greenacre and Eugene Dadi upfront, flanked by Paul Ifill and Carceres.
But the quartet were unable to break down a resolute Adelaide defence although Dadi, Ifill and Carceres managed to make a number of dangerous crosses into the box.
All White Leo Bertos was sent on for Dadi and Daniel for Carceres late in the second half and but neither was able to help find another goal.
Adelaide finished the stronger of the two sides with Dodd forcing Reddy to tip away his dipping shot from outside the box and at the other end, no Phoenix forward could get onto the end of a cross by Bertos.
- NZPA