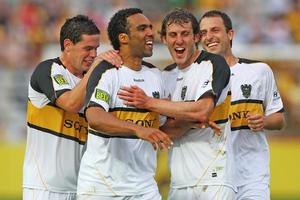 The Wellington Phoenix have returned to winning ways in fine style with a 2-nil A-league win over the Mariners on the Central Coast. It is Wellington's first win in five matches.
Striker Paul Ifill converted a penalty for the Phoenix early in the second half, before sealing the game with an 87th minute winner. Ifill says they have missed Chris Greenacre in the past few weeks, but on this occasion were able to get more players forward to help him on attack. Ifill says they looked like scoring regularly as they pushed forward.
Greenacre could be back from injury as early as next Saturday's match against Brisbane.
The Phoenix are now seventh on the table, one win behind fourth placed Newcastle.
- NEWSTALK ZB