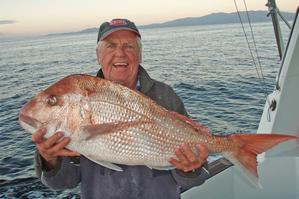 The snapper is the most popular quarry for recreational fishers in this country - but it has the wrong name.
Our snapper goes by several different names and our common name for it is misleading in international fishing circles because many different snappers are found throughout the world and they belong to a different scientific family.
The annual book of world records produced by the International Game Fish Association shows seven different categories for snappers, which are all found in North and Central American waters. They are called names like cubera snapper, Guinean snapper, mullet snapper, mutton snapper, red snapper and yellowtail snapper.
Most of the record catches are about 9kg to 12kg, but the monster is the Pacific cubera which tops 33kg.
The snapper we know belongs to a different family of fishes called porgies which are commonly caught in shallow inshore waters in North America, and is the only member of that family found in our waters.
It was Captain James Cook who was responsible for the mix-up in the name when he named our fish snapper in 1770, after mistaking it for a true member of the family of snappers which he had encountered in American waters.
Americans call our snapper a squirefish, and that is how it appears in the IGFA records.
The heaviest official catch is 16.8kg, which is the men's 24kg tackle record caught by Mike Hayes fishing out of Tauranga on January 14, 1999.
As expected, most of the world records for the various line class categories were taken in New Zealand waters, with a handful from Australia. Specimens larger than 17kg have been caught, but not officially weighed.
In Western Australia it is called pink snapper. Young fish are also called cocknies then red bream or pinkies when they reach the legal size of 25cm in Queensland and 41cm in Western Australia.
The spelling schnapper is sometimes used in Victoria.
The Maori name for snapper is tamure, while the Aboriginal people of Port Jackson called them wollamie. Early European settlers in Australia knew the fish as a "light horseman" as they considered the fish's skull resembled a soldier's helmet.
The great thing about snapper is that they are so common, so widespread and so available to anglers. They don't inhabit super-deep water as do hapuku and can be found from the top of the harbour and off the beaches, all the way out to a a depth of 200m.
They are everywhere. And there are a lot of them. One survey by divers counting fish recorded an average of 6700 snapper of all sizes for each kilometre of rocky coast. That was in the Leigh area, and the marine reserve is quite handy.
But scientists say there are two separate stocks - on the west and east coasts, and those on the west grow faster than their eastern cousins, which can be attributed to their environment.
However, the greatest concentration of snapper is in the Hauraki Gulf, right on the doorstep of more than a million people.
They are found predominantly all around the North Island and the top of the South Island, occasionally turning up as far south as Banks Peninsula and Greymouth.
Snapper spawn when sea surface temperatures reach 18C or more, which can be anywhere from October to February, peaking in December and January. What determines a successful year's spawning and survival of the larvae is the conditions they encounter - temperature and availability of microscopic food. They spawn several times each season. The young fish grow slowly. The smallest snapper generally seen are about 2cm long and probably several months old. At this size they are already perfect miniatures of the adult, complete with tiny blue spots along their backs.
Snapper grow slowly, reaching 10cm at the end of their first year. They do not mature until they are about 4 years old and about 30cm. On the east coast they more likely to be 5 years old at the legal takeable size of 27cm. They all start out as females, but before maturing sexually about half change sex to become males. At six years they average 35cm. They continue growing at about 1cm a year but growth rates vary considerably depending on local conditions of food, temperature and the density of other snapper. A 5kg fish may be anything between 20 and 50 years old.
The oldest recorded was 60 and the maximum length 1.3m and a weight of 20kg.
Snapper are opportunistic feeders, which makes them such a user-friendly fish when it comes to sport fishing.
They will eat most baits, will readily attack metal jigs, rubber lures, live fish, boiled potatoes and even strange concoctions like liver soaked in kerosene, wild duck meat and tripe.
They have large and efficient teeth with sharp canines in the front of the jaws and rounded molars further back and can pry loose and crush almost any shellfish including strong-shelled creatures like paua.
Examination of their gut contents shows that they eat about 100 species of invertebrates and fish, but mainly crustaceans, worms and shellfish.
Large snapper often have a companion - a small trevally.
In this a mutually beneficial relationship the little fellow gains protection and a meal, and rewards his host by acting as his cleaning service, picking out sea lice from between his big scales.