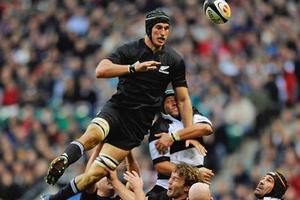 Rugby provinces will receive a cheque for $35,000 as soon as one of their players is selected for the All Blacks squad for the Tri Nations next year.
The initiative is just one measure of the new collective employment agreement announced on Thursday and it will go a long way to appeasing provincial unions who have felt aggrieved for paying the wages of an All Black they rarely saw play.
The issue came to a head at North Harbour this year when they were unwilling to meet the demands of All Blacks Tony Woodcock and Anthony Boric. The pair received offers to play elsewhere - Boric from Waikato and the Chiefs, while Woodcock had offers from Waikato and Wellington - before they re-signed after financial assistance from the Blues.
Under the agreement, North Harbour will receive $35,000 each for Boric and Woodcock, as well as any other All Black, if they are picked for the Tri Nations squad. The money will be paid out regardless of whether that player sees game time.
The NZRU will pick up $22,400 of the bill (64 per cent), the remaining $12,600 coming from the players' association.
"We made a massive effort to make sure provinces still stayed in touch with their All Blacks," Players' Association boss Rob Nichol said. "We implemented a mechanism that every year, if a player is selected for the Tri Nations, the provinces get a $35,000 cheque.
"That's really important and sends the message that it starts with the province. Ideally, players will stick with a province throughout their career. We want provinces recognised and not disadvantaged for producing an All Black.
"They will still get good value out of having an All Black even if he plays only one or two games because they still have things like commercial rights and profile and sponsors will get to meet that player."
The salary cap is cut from $2.2 million to the lesser amount of $1.35 million or 36 per cent of a province's commercial revenue. Salaries are capped at $60,000, although two 'marquee' players can earn $90,000 if they play at least one year for the province.
It's hoped these changes will make it easier for All Blacks to remain in their province and for unions to keep them.
"For a team to be successful, it's going to have to be a team. Money will not win you the domestic competition in the future.
"We could see the real prospect of a team finishing last [in the First Division] one year, winning promotion the next and winning the Premiership the following year. We will also see franchise base teams go down. It's exciting."