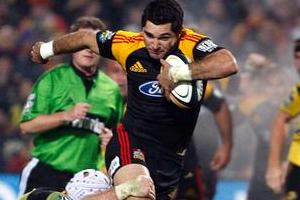 The All Black selectors will meet the five Super 14 rugby coaches on Friday in the hope of agreeing on periodic breaks for leading players to avert burnout amid a crippling schedule.
Player welfare was coach Graham Henry's big concern as the All Blacks began filtering back from London after their six-match tour which ended with their only defeat, the second-stringers losing 25-18 to the Barbarians.
Some were destined for holidays in Europe or North America while others will return home to family and put their feet up, with only a tick over two months until Super 14 kicks off.
Henry and his assistants, Steve Hansen and Wayne Smith, will meet in Wellington on Friday with the Super 14 coaches for a debrief of the tour, and discuss the physical state of some players.
"Can we keep them to a high level with the amount of rugby they're playing or do they need a bit of space from time to time? We're just trying to agree on how we do that," Henry said. "They're not going to be a month out of the game, but a guy might play for three weeks then just needs a break for a week, so he gets out of the environment and gets away.
"Otherwise they're going to be playing rugby for 10 months of the year for the next two years and they'll be buggered ... they're buggered now."
Most All Blacks will be given leave until late January.
Henry said the plan wasn't solely geared to the World Cup in 2011, but just to help the players prolong their careers at the top level.
"Unless we look after them as athletes and do what's best for them then they're going to struggle."
- NZPA