Phoenix 1 Newcastle Jets 0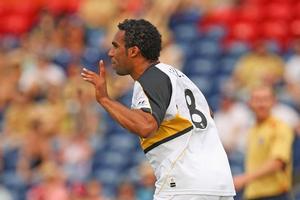 Wellington Phoenix finally recorded their first away win of the A-League soccer season with victory over Newcastle Jets at EnergyAustralia Stadium in Newcastle last night.
The win is only their fourth of this year's competition and consolidates their midtable position as the playoffs near. The Phoenix showed little signs of a World Cup letdown - barely a week after beating Bahrain 1-0 in Wellington, the team's six All Whites looked focused from the first whistle.
The game was played in stifling conditions at EnergyAustralia Stadium, temperatures nearing 40degC at kickoff, with the composed visitors controlling the tempo of the match.
English striker Paul Ifill scored his sixth goal of the season 14 minutes into the game when a pinpoint Tony Lochhead cross found the English striker's lunging right foot.
Newcastle were without strikers Michael Bridges, Sasho Petrovksi and Jason Hoffman, and consequently lacked a little sharpness up front.
They managed to create only the odd half chance, and lacked patience on attack, although as they game wore on they gradually put the Phoenix defence under more pressure.
It was deep into injury time before Newcastle had their first reasonable chance, a good ball in from Jets captain Matt Thompson saw midfielder Fabio Vignaroli miss an open net.
- NZPA