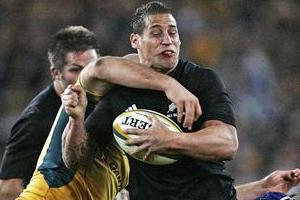 SYDNEY - The All Blacks' gutsy 19-18 test rugby win over the Wallabies at ANZ Stadium has come at a cost, with midfielders Luke McAlister and Conrad Smith potentially ruled out for the rest of the Tri-Nations.
Coach Graham Henry confirmed McAlister suffered a fractured cheekbone and Smith a torn hamstring during the victory that sealed the Bledisloe Cup for another year and kept the All Blacks' Tri-Nations hopes alive.
"The two centres are not too good and I think Conrad will take some time," Henry said.
"I haven't talked to the doctor about recovery time yet. There's a few casualties in there."
Henry said it was likely McAlister would miss the rest of the Tri-Nations, with tests against South Africa in Hamilton on September 12 and the Wallabies in Wellington on September 19 to follow.
Playing his first test at second five-eighth since the 2007 World Cup, McAlister was dazed and bloodied by an early head clash with Wallaby Luke Burgess, then suffered the fracture with another head clash with Peter Hynes in the 50th minute.
Henry praised the fortitude of his players after first five-eighth Daniel Carter kicked the matchwinning penalty with 90sec remaining, as they held off a determined late charge by the hosts.
"I'm just very proud of the character shown by the players," he said.
"The win's the result of a lot of mental toughness. We didn't really get the roll of the dice and we kept on coming back and fronting up."
A glum Wallabies coach Robbie Deans reflected on a fifth straight defeat to the All Blacks which left them winless from three Tri-Nations tests in 2009.
"You don't get given it and we didn't give it as much as the previous two. Dan Carter showed his class in the last 10min, field position and converting that into points. It was there for us, but still not quite there," Deans said.
"The most obvious difference is experience. They're masters at getting home and we're working hard at acquiring that art.
"We're making headway but we haven't acquired it yet. I'm pretty confident we will."
Deans said young fullback James O'Connor was getting x-rays on a possible lower leg fracture as the side prepare to travel to Perth to face the Springboks next Saturday.
- NZPA