Auckland 16 Canterbury 22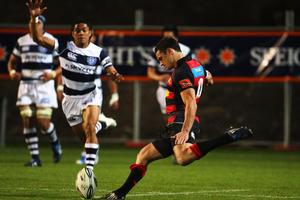 Pack the flask, haul out the travel rug and get down to Eden Park - Auckland are alive. Contrary to recent reports, it looks as if this side can actually play a bit of football.
They might not be able to close the deal, to actually win, but they are nowhere near as desperate as they looked last week.
Having worked their way back into the game to take the lead through a Paul Williams try on 70 minutes, Auckland made the mistake of forgetting that Canterbury never panic. They never switch off and can score at any time.
Which is exactly what they did two minutes after Williams scored. Tim Bateman was able to punch a big hole through the middle and Dan Carter, in support, was able to dot down.
It was a cruel blow for Auckland but one that will advance their learning. Even at this level, you can't lose concentration at any stage. One missed tackle was all it took for Canterbury to grab the seven points they needed.
The pain was more intense, as Auckland had worked so hard to retrieve a position.
For the first 40 minutes, Canterbury, complete with their All Black trio and heavyweight Super 14 contingent, were never really tested. They hogged the ball, they ruled the air and they edged the collisions.
For the traditionalists who still believe in these kind of things, Canterbury also dominated territory and possession. It was a bit if a doddle for them, truth be told.
With a bit of spit and polish, the scoreline would have buffed up nicely. If Carter had been a little more accurate with the boot when kicking for goal and a few others had been a little less casual in making crucial passes, it could have been a big win for Canterbury.
There was also, to be fair, some venom in Auckland's defence and they scrambled well. Benson Stanley saved a certain try when he barrelled into the escaping Ryan Crotty who had shimmied his way to the tryline from inside his own half.
As Crotty readied himself for the big dive into the corner, the Auckland cavalry arrived in the nick of time to bundle him out. It was brave and was typical of the commitment offered by the home side. And typical of how they grew into the game.
Slowly the confidence built and slowly they started to exert pressure. A few half-gaps opened and they were almost taken. The set-piece stiffened and there was some belief. When Williams scored, there was more than belief. There was a sense they were going to win.
That they didn't was a sign of their lack of experience.
John Afoa was their only All Black. Benson Stanley the only player who could be confident he'll be a Super 14 regular next season with the rest, like Paul Williams, Kurtis Haiu, Daniel Bowden and Jay Williams very much on the periphery of the Blues.
Auckland are not heavyweights and have to be judged accordingly - not by the endeavours of those men who have gone before.
Given the experience they were conceding to Canterbury, they did pretty well to still be in it as the game rolled into the final quarter.
Auckland won't win the title this year. They may not even get to the playoffs. But they should, on the evidence of last night's performance, be a much better team by the end of the season.
Isaia Toeava is due back next week and Benson Stanley will be that bit sharper for having a game under his belt. Williams was full of running and aggression - as he showed when he clattered Carter late with an ugly shoulder charge that strangely escaped further punishment.
So there is reason to head back to Eden Park - where a mountain of rubble lies where once the terraces stood as testament to the ground being in a rebuilding phase.
A determined but ultimately limited group of kids wearing blue jerseys in the middle of Eden Park stood as testament to Auckland Rugby being in a rebuilding phase. It's going to be a close run thing as to which is complete first - the stadium or the team.
Auckland 16 (P. Williams try; D. Bowden 2 pens; A. Moeke con, pen), Canterbury 22 (D. Carter try, con, 5 pens)