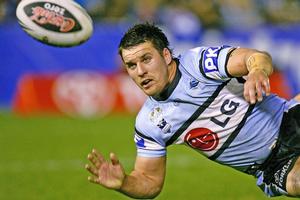 Brett Seymour will get his last chance.
The two-time NRL outcast has taken the first steps on what both he and his new club hope will be the path to redemption, signing a one-year contract with the Warriors.
The deal, ratified in Sydney on Friday after talks among Seymour, NRL boss David Gallop and Warriors management, contains an option for a second season.
With Seymour's off-field conduct resulting in his being shown the door by previous clubs Brisbane and Cronulla, the Warriors will be hoping the 24-year-old is still around in a year's time to exercise that option.
"I regret some of the things that have happened in the past, but I am desperate to play first-grade football again and I want to do everything possible to rebuild my life," Seymour said.
"I have a lot of people to thank for making this possible. I don't want to let them down or let myself down. I know I have to make this work."
With Stacey Jones having finally brought down the curtain on his career over the weekend the Warriors, too, need to make it work. With 101 first-grade games to his credit, Seymour is the only experienced half on the club's books for next season.
Another will be brought in. Chief executive Wayne Scurrah confirmed the club had drawn up a list of potential recruits and was now "working through that list".
One name that can be scrubbed is Daniel Holdsworth, with the Warriors having already considered and rejected the Bulldogs back-up.
Warriors management have expressed disappointment with Jones' decision not to play on, but it has given them greater flexibility on the recruitment front. Plan A was for the versatile Seymour to play at five-eighth, outside of Jones. An alternative scenario could now see the club recruit a five-eighth, with Seymour playing halfback.
After strengthening the contractual provisions around Seymour's off-field behaviour, Gallop signed off on the deal - but not before reminding the Warriors they would be held accountable if Seymour goes off the rails.
The club was comfortable with that situation, Scurrah said. "We accept the NRL has a hard-line policy on clubs being held accountable for signing players with previous behaviour issues of this type.
"Brett knows this is his final chance to make something of his career and his life and together we will be doing all we can to make it work."
Seymour is expected to settle in Auckland before the end of a season that can't come soon enough.
Saturday night's meltdown against the Panthers was yet another bitter pill to swallow.
"It summed up the season for us," said centre Joel Moon, whose four tries seemed to have put his side on the path to a resounding victory.
Instead they blew a 32-6 lead, with Lance Hohaia's extra-time field goal clattering back into play off the crossbar to condemn them to their second draw of the season.
"The ball doesn't bounce our way most games, that's how our season's panned out," Moon said.
Having watched his side finally discover its attacking groove, coach Ivan Cleary was left to lament the festival-like approach to the final 20 minutes that cost his side victory.
* Brett Seymour
Born: September 27, 1984, Mackay, Queensland.
Position: Halfback/five-eighth.
Height: 178cm.
Weight: 90kg.
Junior Club: Souths Mackay.
NRL career
Broncos: 62 games, 2002-2006.
Sharks: 39 games, 2007-2009.
Points: 161 (18 tries, 43 goals, 3 field goals).
Representative: Australian Schoolboys.