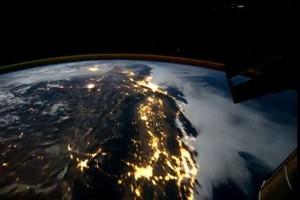 A time-lapse video collated from 600 images from the International Space Station is offering the public a unique glimpse of our planet from space.
The footage, uploaded onto YouTube by James Drake, documents the space station's orbit across the Pacific Ocean at night.
Collated from a series of publicly available ISS images, the 62-second clip "begins over the Pacific Ocean and continues over North and South America before entering daylight near Antarctica".
It passes over several US and Canadian west coast cities, including Vancouver, San Francisco, Los Angeles, as well as southern US States and Mexico, and countries across Central America, and South America.
Throughout the clip violent lightning storms can be seen across the Pacific Ocean, as well as the earth's ionosphere (seen as a thin yellow line), a satellite at 55 seconds and the stars of our galaxy.
The clip now has almost 3 million views.