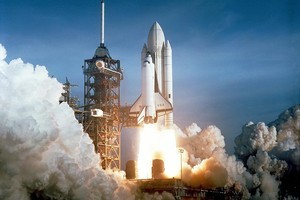 Nasa is winding up its 30-year-old shuttle programme, signifying the end of a chapter in space historyIt has become the long goodbye.
A failed fuse box forced Nasa to abandon its high-profile launch of the space shuttle Endeavour last weekend.
Liftoff for the shuttle's 25th and last flight is - tentatively - on Tuesday.
The technical hitch illustrates just how complex these space machines are and why Nasa's farewell to the 30-year shuttle programme may last some time.
Over the decades, space shuttles have encountered all sorts of hitches that have held up launches. Problems with their tanks and booster rockets. Fuel leaks. Engine shutdowns. Wiring problems. Stuck valves. Burst hoses. Turbine failures. Hail damage, even woodpecker holes in the insulating foam of fuel tanks.
The list goes on - no surprise given the estimated one million parts per shuttle and 2.5 million parts when you throw in the giant fuel tank and two boosters.
Discovery sat out its launch for four months before making its final mission in February. It was grounded by a cracked fuel tank. Now it's Endeavour's turn to stall.
"It is kind of funny. It's almost like they don't want to give up," launch director Mike Leinbach said. "But it's just coincidence."
Endeavour's problem was the failure of heaters crucial for keeping a fuel line from freezing in space. Frozen fuel lines could lead to a rupture and even a fire once an orbiting shuttle returns to the atmosphere.
Nasa officials have stressed repeatedly that they will not ease up on any launch rules, even as the shuttle programme winds down.
Extra precautions were put in place after the 1986 Challenger launch accident and the 2003 Columbia disaster. A total of 14 astronauts died in those two catastrophes.
Leinbach said Endeavour's current problems were not necessarily a sign of age. It first flew in 1992.
"As far as the orbiter getting old, no, it's a machine and occasionally machines break," Leinbach said.
"It's just part of the business."
Thousands of spectators turned up for the scrapped launch, many drawn by the poignant presence of Gabrielle Giffords, who was shot in the head during an assassination attempt in January that left six dead and nine others injured. Her husband, Mark Kelly, is commander of the six-man mission. She is vowing to return for the next attempt.
If it lasts much longer, the delay could end up having a domino effect on the final shuttle mission. Atlantis is scheduled to blast off on June 28. Its return from orbit will mark the end of a chapter in space history.
Residents of Florida's Space Coast display a mix of pride in what they helped build and frustration that America has no new spacecraft ready to launch the next generation of explorers.
"I'll cry when it launches. I'll cry when it comes back." said Laverne Woodard, who began working for Nasa as a shuttle payload logistician in 1980, a year before the first shuttle flight. "When you watch them go up, you feel you've touched a piece of history."
Woodard retired five years ago but returned to the Kennedy Space Center. She has been at all 133 shuttle launches, and can recite a list of everyday innovations that evolved from the space programme - cordless power drills, medical lasers, improved prosthetic limbs, and GPS devices to guide motorists.
Space exploration is woven into the fabric of life in many communities on Florida's central Atlantic coast. Children attend Astronaut High School and Satellite High. The telephone area code - 3-2-1 - reflects the countdown to launch. But with shuttle work winding down, the Space Coast is braced for tough times. Between 7000 and 9000 workers are losing their jobs with Nasa and its private contractors.
Jonathan Werba, a 50-year-old medical worker and surfer, joked that Chinese recruiters will be standing outside the gates of the Kennedy Space Center, handing out business cards.
"We're going to lose some of the brightest minds in the country as far as scientists and engineers."
Nasa's mission has been updated in keeping with austere times: to put astronauts in orbit using privately run launch, transport and services companies. Nasa will now focus its resources on "deep space exploration", such as potential landings on asteroids and, eventually, Mars.
The changes were heralded when President Barack Obama signed legislation calling for US$1.3 billion ($1.65 billion) to be allocated to the development of commercial crew services over the next three years. The money will help private companies design and build devices capable of delivering astronauts to the International Space Station - currently jointly operated with the Russian space agency.
But in spite of a temporary spending measure signed by the president in December, uncertainties abound. Nasa could be left waiting for cash before it can get started on its deep space exploration programme. The administration has also decided not to fund a replacement rocket capable of sending people into space this year.
Aeronautics companies that have been providing technology to Nasa - including Lockheed Martin and Boeing - have said they will compete in the astronaut transport, cargo and even space tourism industries. Others are trying to get a slice of the market, including Sir Richard Branson's Virgin Galactic, which is building a spaceport facility in New Mexico, and Elon Musk's SpaceX, which is working on reusable orbital rockets. Nasa will offer private companies training and safety certifications.
In addition, Nasa facilities such as the Kennedy Space Center will offer logistical services to the highest bidder, just like an airport offering gates to different airlines. It is expected everything will be up and running by 2015.
Once Nasa's shuttles are done flying, they will be on display in Florida, California and the Washington DC area. Endeavour, the youngest of the shuttles, will be ferried to Los Angeles to end its days in the California Science Centre, alongside existing exhibits of the Mercury, Gemini and Apollo spacecraft, and close to the old Rockwell plant in Palmdale where the shuttle was developed.
As for Endeavour's astronauts, they will remain in quarantine this week at Johnson Space Center in Houston. Kelly will be able to visit Giffords in rehab, provided she remains germ-free and he stays clear of possibly contagious people, officials said.
On the Space Coast there is nostalgia.
Werba remembers when Nasa representatives came to his school and talked of a future with reusable vehicles, giant space trucks made up of more than a million parts, flying so often the missions would become routine.
He still marvels at the brilliant flame that turned darkness to daylight during the night launches and the sonic booms that herald a shuttle's return.
"It never fails to elicit a surprise when it comes back ... that BAH-BOOM!" Werba said.
He was proudest when astronaut and former US Senator John Glenn, the first American to orbit the Earth, returned to space aboard the shuttle Discovery in 1998.
"People pulled over to the side of the road to watch and shout, 'God Speed John Glenn'," Werba said.
- AGENCIES