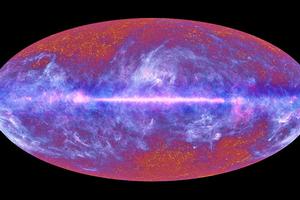 Interstellar clouds of gas and dust light up this panoramic view of the sky beamed back to Earth by a telescope that is charting the universe.
The European Space Agency's Planck telescope was launched in May last year to survey "cosmic microwave background" - ancient light left over from the big bang.
Its first full sky picture shows the universe in all its glory - from the bright streak across the middle emanating from the Milky Way to the duller outlying reaches.
The light on the edges is the remnants of the first light after the big bang 13.7 billion years ago.
The image is created not from light from stars but from the radiation released by the dust and gas clouds stretching between them.
The Planck telescope observes the sky in nine wavelengths from the microwave to the very far-infrared region of the spectrum. This image is a composite of several different wavelength images.
Galactic features recognisable in the image include the Galactic Centre and the giant molecular clouds of Perseus and Orion.
The Large Magellanic Cloud (LMC) and the Small Magellanic Cloud (SMC), two small satellite galaxies of the Milky Way, are clearly visible, as is the spiral galaxy M31, or Andromeda, the largest galactic neighbour of the Milky Way.
The LMC lies at a distance of about 160,000 light-years from the Sun, the SMC at about 200,000 light-years and M31 at about 2.5 million light-years.
David Southwood, of the ESA, told the Guardian : "We are opening the door to an El Dorado ... that will lead to deeper understanding of how our universe came to be and how it works now.
- staff reporter