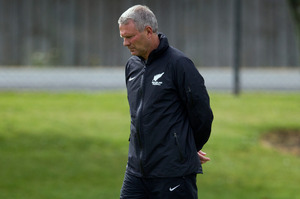 An All Whites win in their final home Fifa World Cup qualifier, against New Caledonia at Dunedin's Forsyth Barr Stadium on March 22, would give coach Ricki Herbert's side a big boost on the road to Brazil.
It would give them Oceania's place in the intercontinental playoff against the fourth-placed Concacaf (North and Central American) nation in November.
A draw would leave the All Whites needing a point four days later in the Solomon Islands, while a win for New Caledonia would see them come level with New Zealand with a game to play.
"Anything is a possibility but nothing can be taken for granted in World Cup qualification," said Herbert.
The qualifier will be the first soccer international at the indoor stadium and the first time the All Whites have played in Dunedin since 1988, against Australia.
New Zealand Football chief executive Grant McKavanagh said Dunedin was long overdue to host a high-profile All Whites match, other venues around the country having hosted key matches in the recent past.
"Dunedin is noted for its love of sport and 'scarfie' population," McKavanagh said. "In bringing this crucial match to Forsyth Barr Stadium, we're hoping to see supporters from the region get out en masse and support the All Whites."
Several of Herbert's potential All Whites get a sneak peek at the venue when the Wellington Phoenix play the Melbourne Heart on March 3 in the A-League.APNZ
- APNZ