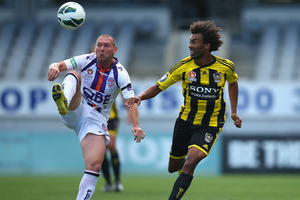 While Phoenix co-owner Gareth Morgan was seen in a bizarre cat costume at the Wellington Sevens, his much maligned team scrapped like dogs to record their first win in six matches.
It wasn't always pretty - aside from a peach of a goal - but it was effective enough and the three points lifts them away from the A-League cellar.
Unlike some of their recent matches, there was genuine effort and desire on display throughout the 90 minutes as the Phoenix realised that a victory - their first of 2013 - was non-negotiable. It wasn't a dominant performance but the men in yellow and black did enough to win and, on balance, it was a deserved victory.
Ben Sigmund and Andrew Durante (in particular) were at the heart of a strong defensive effort, while new signing Isaka Cernak had some impressive touches in an energetic display, especially in the first half. As he has so often, Paul Ifill provided the difference with his vision and clever touches on attack.
The Phoenix scored in the 41st minute through Jeremy Brockie - who else? - and created several chances, though Perth spurned at least two clear-cut opportunities which left coach Ian Ferguson with his head in his hands.
"I thought we deserved it," said Phoenix coach Ricki Herbert. "It was two desperate teams out there but we defended really stoutly - it looked like a team that was wanting the points. I was saying to the staff on the bench - 'that's kinda like old days [out there] grafting through and getting the result'."
Talk about playing style had dominated much of the build-up but the coach deflected questions on the topic.
"It is kind of irrelevant what you want to do and how you want to play. Manchester United at times are a really good side to watch but at times they can be desperate. It's just finding that balance. We are encouraging the players to be confident and we are going in another direction [but] that is a long-term goal."
On a sunny Auckland afternoon, the crowd of 11,566 was well down on last year's, though it was still the biggest for the Phoenix since round one.
There hasn't been much glorious about Perth this season and they looked ripe for the picking, having lost six of eight matches on the road this year.
They created several half chances in the first 10 minutes, helped by static defending from the Phoenix. Wellington's first genuine opportunity came in the 19th minute, with Ifill and Leo Bertos combining well before the winger blazed his shot over the bar.
Perth should have scored in the 23rd minute - a simple counter-attack from a Phoenix corner set Chris Harold free but he nudged it wide with only Paston to beat, while Stein Huysegems went close at the near post.
The first half was a fairly scrappy affair; often the Phoenix approach was a long ball to lone striker Huysegems, who was invariably surrounded by defenders, with the hope they could win the second phase possession. There were constant parries, blocks and rebounds as the ball spurted about but it was rarely effective.
Bertos, and to a lesser extent Ian Hogg, offered penetration down the flanks, though Ifill always looked the most likely source of attacking inspiration.
And so it was, with a fine goal. New man Cernak - who looked strong in possession and showed an ability to outfox his marker - started the move, beating two defenders before the ball found its way to Ifill on the left flank. He dummied to an overlapping Hogg before sweeping a long angled cross into the penalty area for Brockie to nod home.
The second half was a much more open affair. Neither side managed many gilt-edged chances, though Ifill almost scored one of the goals of the season, curling a shot wide after beating three players in the area. Durante was immense in the second spell, an imperious presence at the heart of the Phoenix defence, though Sigmund's fifth yellow card of the season means he will miss the next match.
Meanwhile, the Wellington club hope the Eden Park clash will become a regular event but say it remains a year-by-year proposition.
"Of course we would love to have annual games in New Zealand's biggest city," says Phoenix CEO David Dome. "Obviously it depends on a number of factors - including support - but there are weekends in every season where Wellington Stadium is unavailable and we have to play elsewhere."
Since drawing 12,057 to the first round match against Sydney, which was also Alessandro Del Piero's A-League debut, crowds have been less than impressive, averaging around 7300, their lowest since the 2008-09 season when they finished third from bottom on the ladder.
Wellington Phoenix 1 (J. Brockie 41), Perth Glory 0. Halftime: 1-0.