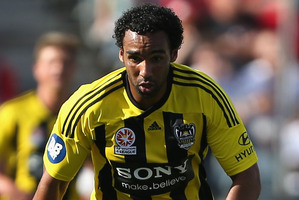 Rather than search for highlight reel moments, Paul Ifill is calling for his Wellington Phoenix team-mates to focus on the fundamentals as they look to pull themselves out of a horror mid-season slump.
The Phoenix have lost five of their last seven matches and are anchored to the bottom of the A-League ladder, although only five points separate last and fifth on the table.
That means Phoenix fans don't need to push the panic button just yet on their season as they bid to make the playoffs for the fourth-consecutive campaign but pressure is mounting for them to start putting results on the board.
Their next opportunity to do so will present itself this weekend when the Phoenix cross the Tasman to meet Sydney FC at Allianz Stadium on Saturday night.
Ifill has been included in the match-day squad for this weekend's game, which marks the first time he will take the field for the Phoenix since round 11 after he underwent surgery on his right ankle.
The former Barbados international said one thing stood out to him during his time watching the Phoenix lurch from one loss to the next during the past month.
"Lack of confidence I think," Ifill said. "There's a lot of talk about the new style, but some of the things we've been doing [wrong] - getting away from the style - is just fundamentals. Our defending's been poor and I'm not just blaming the back four. I think it starts at the front and I think we've just got to work harder all over the pitch and go back to basics, get that right first and then you can start playing pretty football. You've got to earn the right to play this so-called 'total football'. You can't just go out there and be Barcelona from the first minute, it's
impossible."
After getting through 30 minutes for the Phoenix reserve side against YoungHeart Manawatu in Palmerston yesterday (weds), Ifill will likely make his return to the A-League via the bench rather than start this weekend.
There's still some life left in his 33-year-old legs and even the possibility of a cameo appearance from him will likely galvanise the Phoenix who need to find more goals having only scored once during their past three games.
Ifill acknowledged there would be heat on him to perform but said he wouldn't have it any other way.
"I want a little bit of pressure. It'd be terrible if they weren't even worried about me coming back so it's quite nice to get a little bit of pressure and hopefully they can do the job without me," Ifill said.
"It's not been great the last few weeks. I don't think we played particularly badly but the results have been going against us."
In team news, Louis Fenton is likely to be removed from the starting line-up and will play from the bench in Sydney and Alex Smith will be inserted to the playing XI.
Phoenix coach Ricki Herbert said given the side's leaky defence of late and the fact the game was on the road Smith would help strengthen the midfield.
That will leave an attacking line of Tyler Boyd, Jeremy Brockie and Stein Huysegems with Dani Sanchez, Vince Lia and Smith in the midfield with the usual suspects of Leo Bertos, Ben Sigmund, Andrew Durante and Tony Lochhead in the back four.
Reserve goalkeeper Glen Moss has recovered fully from his hernia operation and will take his place on the bench, which ends Griffin McMaster's brief stint in Wellington who was signed in late November as cover for Moss.
- APNZ