Jo Williamson is general manager of Howler Hotdogs, which she owns with her husband Brent.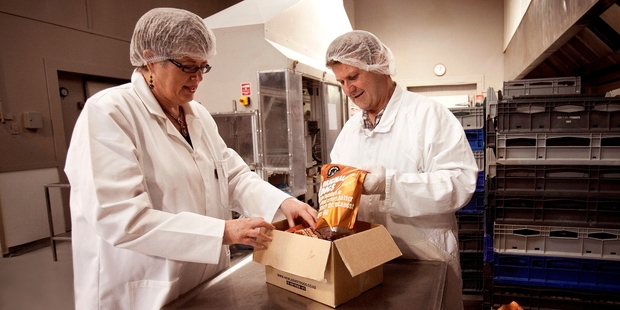 Can you tell me a bit about Howler Hotdogs?
My husband Brent and I bought an existing manufacturer of hotdogs. We felt the hotdog had been neglected in the past couple of decades and needed a bit of a makeover to make it more relevant to the modern-day consumer. Most people have very fond memories of hotdogs associated with fun times in their lives, but unfortunately the quality of what people end up with in their hand can be very variable, so our mission is to ensure we get a great product into the hands of hotdog lovers. Our customers are foodservice distributors, supermarkets and speciality food stores.
I'm the general manager of the business and my husband looks after production. My days are pretty varied, which is nice - I can be doing anything from getting samples to prospective customers, to sorting packaging design or doing new product trials.

Our plant is quite automated so while we make tonnes of product, we are a small team of five plus my husband and me.
Most of our team have been with the business for eight years or more.

In terms of getting paid in a timely way, what are the challenges you've encountered as small business owners?
Howler Hotdogs has preferred supplier status with our foodservice distributors and supermarkets, which is the bulk of our business and that guarantees us payment. However, we have found small speciality retailers have a reasonably high failure rate.

What would be your three key tips for other small business owners wanting to get paid faster?
Tip #1: Have good credit practices. I'd recommend having account application and terms of trade documents drawn up for your business, and get those completed by all new customers as part of a credit approval process, and flag a credit limit.
Also, we follow up quickly with any overdue accounts. Communication is very important, as in the majority of cases overdue accounts turn out to be innocent issues with paperwork. If this isn't the case we negotiate a payment date. Depending on the 'risk profile' of the customer this may or may not involve a credit hold being put on their account until payment is received. We also have 'cash only' customers where credit isn't given at all, which is quite common in our industry.

Tip #2: Keep good accounting records and ensure they're up to date. This helps us identify any changes in payment or spending behaviour. The classic is the account that is overdue, you follow up, the overdue amount is cleared and then you receive an extraordinarily large order from them. But I think the best thing we ever did was when we set up our monthly statements we didn't create 60- or 90-day overdue columns. Accounts are either current or overdue. As a small business you can't afford to be providing free credit to your customers as it doesn't take too many lax customers to start having an impact on your ability to meet your credit commitments to your suppliers.

Tip #3: Develop a good working relationship with your customers and understand how their business operates. We're definitely in the business of looking for win-wins. We want to work with our customers to grow their businesses and by doing this it grows ours. It also dramatically decreases the risk of payment delays as you know early on if there are any problems.
Coming up in Small Business: Crowdfunding campaigns are an increasingly popular way for companies to raise funds for projects. What has worked, and what hasn't, for companies that have run these campaigns? If you've got a story to share, get in touch: nzhsmallbusiness@gmail.com