Taking a commercial approach from day one was costly, but a good investment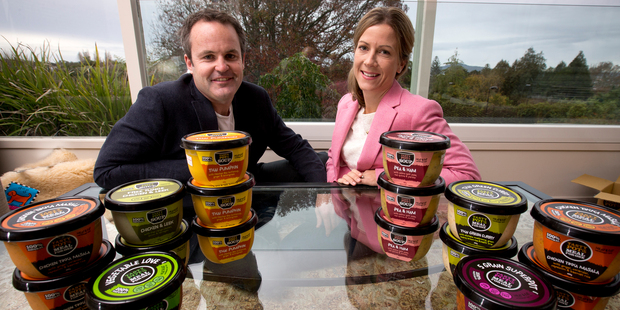 Andrew and Natalie Vivian like to joke that their chilled ready meal business, Tasty Pot, is their fourth child.
Sandwiched between the pair's two older children, the four-year-old food company is like a middle child; demanding lots of attention and a bit challenging, says Andrew Vivian, 35.
And while the Tasty Pot business retains the essential characteristics it was born with in July 2010, a lot has changed in the intervening years.
For the couple returning from time spent in Britain, working mainly marketing big-name food and beverage brands, Tasty Pot was a way to bring together their healthy eating values with the highly developed ready meal category they'd seen in Britain.
They spent seven or eight months researching the market and trying to understand whether New Zealand was just behind on the overseas ready meal trend, or whether it was on a completely different path, says Vivian.
After speaking with anyone in the food business who would give them time, they felt there was a viable market for convenience food that was good for you but didn't cost the earth.
"Our big goal was to make meals that you could buy with confidence, that tick all the boxes around health, around natural ingredients, around affordability, but most importantly around taste. We wanted to create that homemade taste and texture."
There was nothing kitchen bench about the production, though. The pair went in boots and all, taking over an existing food-grade manufacturing facility in Onehunga, which Vivian says was ambitious in terms of its size but meant they didn't have the pain of having to move in a few years.
"Getting the economies of scale to make that space viable was essentially the first big challenge for us."
Now available from supermarkets nationwide, Tasty Pot turned over $600,000 in its first year of business but has grown fourfold since then, he says.
Vivian says there was a "decent" set-up cost involved and then trading losses until the business hit its production potential, but that was balanced by the benefits of maintaining complete oversight of the end product.
"We speak to a lot of other businesses and a lot of them contract manufacture and they know what each unit is going to cost them, which sometimes you think, 'Oh, that would be nice if you didn't have all these unexpected costs', but ultimately we've got control over the manufacturing, we've got flexibility to change as you need to which is something you definitely have to do in the food business and also from a quality perspective we've never got to compromise on that."
The soups and ready meals are gravity fed into plastic pottles, a production method that differs from those of competitors who generally pump-fill pouches, says Vivian.
The end result for Tasty Pot is a chunkier, more flavoursome product packed into a convenient container, he says.
"We've had a few misconceptions and mistakes along the way.
"We used to think the best quality things had to be short shelf life and packed by hand." The first Tasty Pots were an individually layered range, with an eight to 10-day shelf life.
Within months of launching, the meals had caught the eye of judges at the New Zealand Food Awards, winning three awards including the Supreme Award.
"We no longer do that range because we started speaking to consumers and they actually said 'we'd prefer it if it was all mixed up'." The upside of changing the product was not only happier customers, but a revised production process that gave Tasty Pots a longer shelf life.
The challenge of a short shelf life also resulted in Tasty Pot recently culling a salad range that used to account for more than half of the company's business.
Vivian says it was a big call to move away from a popular product, but maintaining the salads meant taking back unsold supermarket stock and managing production efficiencies when producing to order.
And, within a few months they recovered the lost business.
The Vivians have a vision to make Tasty Pot "New Zealand's favourite little fresh meal company".
"We've got big aspirations and we knew we had to have the right foundations to support that."
That means not only being ruthless about products that aren't showing mass-market appeal, but also cherry-picking what they liked about operations at the overseas food and beverage giants they'd previously worked for, and ensuring Tasty Pot had the business structures to support growth.
While nailing a longer shelf life opens up opportunities overseas, particularly in Asia, where Tasty Pot has just found a rep, Vivian says there is still plenty of growth in their own backyard.
After signing with food wholesaler Bidvest, Vivian says Tasty Pot's healthy, home-made taste could find a market in food service outlets in schools, hospitals and hospitality venues.
A recent trip to Eden Park with his oldest son highlighted the lack of nutritious, hearty food on offer, he says.
"There's a lots of scope for growth, absolutely. We're only just scraping the surface. It's such a big potential market but it's about telling people you can actually buy stuff that is as good as you make at home, if not better."