Kiwigarden is a Hastings-based startup that uses freeze drying technology to create fruit and vege snacks for kids. Joanne Edwards and her husband Taine Randell (yes, of All Black fame) are the parents-of-three behind the brand.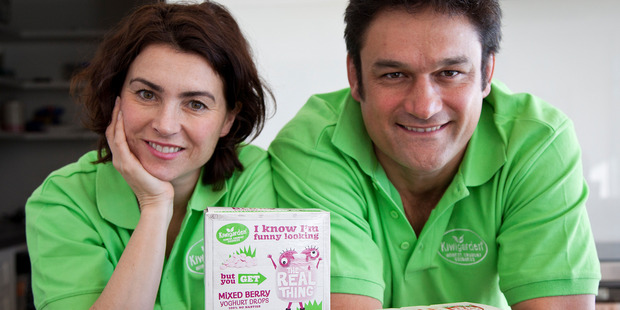 How did your experience as a parent lead you to set up Kiwigarden?
The business was borne out of a passion to make better quality lunchbox options for Kiwi kids. We began making freeze dried snacks for our kids' lunches a couple of years ago using my father's test freeze drier. Their mates loved them too so last year we decided to launch the idea commercially. As a busy mother I understood and recognised the need for 'guilt free' snacks that I could give my kids in a hurry without compromising on quality or nutritional value and I felt it was a challenge for parents to find natural, nutritious snacks for kids. Our products are based on our own kids' favourites and include fruit, vegetables and yoghurt. The goodness of the raw product is retained; we have just removed the water.
Where's the business at now?
We are a small startup family company. Our target customers are children aged between 18 months and nine years with dual appeal to health-conscious adults.
The messaging on our packaging is designed to reassure mums and dads that our products are the 'real thing' but it still has a fun and cheekiness about it that reassures kids that healthy food isn't boring. We want to be transparent and open in everything we do. In a cluttered market we want to stand up for what we believe in and offer a trusted alternative.
How does the business fit in with family life and routines?
It has been incredibly busy and had I had a better idea of what was involved I may have reconsidered! But our business is very much part of our family life - especially as the kids think it was their idea in the first place. They come to food shows and so on with us and I feel so proud when I listen to them explaining to customers about how the snacks evolved.
They are also our chief tasters and delight in showing our new products to their mates and collecting feedback for us. That is definitely the fun side of the business. We went into their school at the end of last year and sampled our products on a cross section of their classmates in an official tasting panel environment.
It's early days but what have been the challenges so far?
Going into a highly competitive market and competing with the big boys with deep pockets is a challenge. But as parents we are part of a community so we try to have a presence at things we are involved with to let people know what we are about and where to find us. My friends have been amazing at letting me know what's on in their neck of the woods that we should help out with too.
Being based in Hawke's Bay has also meant a lot of travelling to get around the supermarkets. The kids have been really supportive and understand that this is part of giving other Kiwi kids the opportunity to have healthy snack choices.
What about the payback?
We are a family business so the kids have been very enthusiastic about being involved from beginning to end. They've been actively involved in everything from product development to design and have particularly loved providing the jokes on the back of the packets! Seeing the excitement on their little faces when other children have them is fantastic; they are so proud and will go up and ask them what they thought. It has also been easier for them to understand what we are working on if they can see that the results are tangible and they have been involved along the way.


Coming up in Small Business: From Facebook to Twitter, Instagram to Pinterest, everyone's trying to raise their social media profile. But is it translating to sales? If you've got a cool story about how you've used social media buzz to market your business (that's had a tangible effect on the bottom line) drop me a line.