Scott Farquhar co-founder of Australian software business, Atlassian, on giving back to the community from the beginning.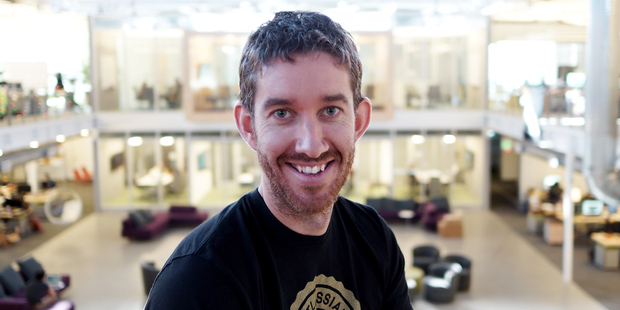 Tell us about what you do
Atlassian offers a social collaboration and productivity platform focused primarily on a very strategic challenge businesses face today - team-based software development. We help teams more easily share and coordinate all the bits of information and tasks and deadlines and people that go into building software as a team. Our products are used by more than 30,000 companies globally - from small startups to 80 per cent of the Fortune 100 - and in nearly every industry where software is being used to reinvent, innovate or disrupt. Our customers include some of the world's largest and best brands in media, manufacturing and technology such as Citigroup, eBay, Coca-Cola, Netflix, United Airlines, Cisco and NASA. All of these companies are advancing humanity through the power of software, and use Atlassian to help them do it.
We founded Atlassian in Sydney in 2002 with $10,000 in credit card debt, and we poured every dollar we made back into the business.
Today, with $150 million in annual revenues, Atlassian is the leading provider of collaboration software to help companies plan, build and launch great software. We employ more than 700 passionate Atlassians globally.
Our product portfolio includes JIRA, used by teams to track work, activity and projects; Confluence, used by teams to share and collaborate around ideas and content; and Stash, used by developers to collaborate on source code in a distributed fashion. More than 1,500 third-party applications have been built on top of our products and can be found on the Atlassian marketplace. We support dozens of integration partners including Box, Gliffy, New Relic, Zephyr, Zendesk, Salesforce.com, Tempo and GetSatisfaction.
Given your success, what are some of the things you have done for others along the way?
One of the initiatives I'm most proud of is the Atlassian Foundation. When we started Atlassian, we committed to the " 1 per cent donation" model: Atlassian donates one per cent of equity, one per cent of profits and one per cent of employee time each year to charity. Donating one per cent of equity was easy to do back when we started since it was one per cent of virtually nothing, and we encourage more companies to begin that way. Today, the Atlassian Foundation gives back in many ways - by giving employees time to support the causes they believe in, by donating licenses to non-profit and open source projects, and by donating money to charities.To date, we've given away US $3.7 million to charitable causes, mostly with a focus on education, because education has been proven to break the cycle of poverty.
What is Atlassian's company's ethos? What drives it?
At Atlassian, we live and breathe by our five values. These are the pillars of our culture, and define how we build our company and interact with our customers. We embrace transparency by making as much information, both internal and external, public by default. We focus on building products that are simple but flexible, and prioritize doing what's best for the customer.We encourage everyone to: "Be the Change You Seek" - we're constantly looking for ways to improve our company, our products and our environment.
Our team strives to make Atlassian an innovative, challenging and fun place to work, and we look for employees who will add to that passion and motivation to constantly improve.
How have you shared some of your software with others?
In addition to the "1 per cent model" that funds the Atlassian Foundation, we also offer free software to non-profits and open source projects.To date, we have provided more than 16,000 community licenses worth more than USD$32 million.
The community license program was designed as our way of giving back to the community and a way to contribute towards improving the productivity of charitable organizations. In addition to Atlassian's community license program, we support a variety of open source projects that use our products, such as Apache, Cloudera, Grails, JBoss, Mozilla and hundreds of others. We also offer a "Starter" program where we sell a 10-user license of any Atlassian product for $10, and then donate all proceeds to Room to Read, a global organization working with local communities, partner organizations and governments to develop literacy skills among primary school children.
What was the thinking behind this?
Many software companies offer a "freemium" model, where they give some version of their software away for free. We wanted to do something different, and use it as an opportunity to give back, so we pioneered a new philanthropic model called "Causium", which merges Cause Marketing with the popular Freemium business model, to support small start-ups - since we ourselves started out as such - and charities. Instead of simply giving away a teaser product, we charge a micro-payment of $10 for 10-user Starter licenses and then donate all proceeds to Room to Read.We believe that by making a small donation every time a consumer downloads our products, we can have a huge impact down the road on significant causes like global literacy. The results have been an astounding win-win-win for all parties in the long run. To date, we have donated more than USD $2.5 million to Room to Read through the Starter license program.
Does this endanger protecting the rest of your IP in any way?
Nope. The software is still licensed, so bound to the terms of Atlassian's software license agreement. We just don't charge non-profits or open source projects for its use.
What advice would you give to other tech companies wanting to do something similar?
Start small and think big. You don't have to have millions of dollars or hundreds of employees to make a profound impact. Sometimes it's the small, incremental things that can really add up to make the biggest impact in the long run. Also think about giving back when you start, when it's a no-brainer because you don't have much. The reward you get by helping others as you grow cannot be under-estimated.
What has the feedback been from those using the software for free? What are they using it to do?
Some recent feedback that first springs to mind is a comment from one of the world's most recognised micro-finance lenders whose mission is to combat poverty by making small loans to disadvantaged people worldwide. They wrote to thank us for our generosity in giving them, and other not-for-profits, free software licenses.
They said our products were making a measurable impact, helping them run their operations more effectively and allowing them to help so many more people in need. Another very large non-governmental organisation told us that the money they use to spend on software licenses is now directly supporting their programs to lift children out of poverty.These are the types of stories we love to hear, and that inspires our mission even more - to advance humanity through the power of software.
What has it done for your image and brand?
My hope is that there is a "halo effect" with our brand. That as more people hear of the success of Atlassian, our Foundation and our work with the open source community, the 1 per cent model and programs such as "Causium", they will be inspired to think creatively about how to help those less fortunate. We live in an incredibly fast-paced world that is constantly reinventing itself. I hope that companies today take the time to see if the products they are building, the business models they are creating and the programs they are pursuing, are helping others do their work more collaboratively and more efficiently to create positive change.


Next week: It can be said that NZ game developers punch seriously above their weight, the likes of Sidhe Interactive, SmallWorlds and Ninja Kiwi. I want to hear from more game developers making some major strides here and overseas who are not so well known - yet. I know you are out there, please get in touch.