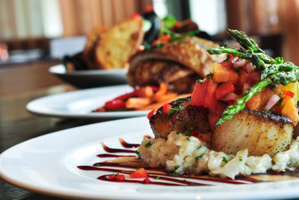 Sam O'Connor, founder of EasyEat.co.nz, an service which consumers use to order takeaway meals online, for delivery or collection from local restaurants free of charge. Visitors to EasyEat.co.nz start by choosing their suburb. The website then returns a list of restaurants that allow pickup or delivery in that area. Once a user determines what they want, they can place their order through the website paying by card online or cash on pickup/delivery. EasyEat charges a small commission to the restaurant on each order so there is no charge to the customer. It allows people to order in advance for delivery to their home, office or hotel. In Europe and the United States, online takeaway ordering accounts for 15 to 25 per cent of all takeaway sales.
Is EasyEat benefiting from the surge of restaurants in Auckland?
Yes, as more restaurants understand the importance of the internet and demand for online ordering. More people are eating takeaways and the sector is growing at rapid speed. Most people are very busy these days and like the convenience of ordering restaurant takeaway meals online for pickup or delivery that are healthy, quick and good value for money. We find a lot of our customers are now having food delivered to their office as well as our usual customers who order delivery to their home or hotel room.
Restaurants are not very good at online advertising. Many don't have online ordering technology or don't having a website at all. Google search statistics shows thousands of Kiwis search "order takeaways online" and "order takeaway delivery online". EasyEat helps grow business for restaurants by introducing them to new customers and we save them staff costs on answering the phone as well as increasing order accuracy. EasyEat saves restaurants on advertising costs and we save them thousands by not having to build and maintain their own online ordering website. The more restaurants in Auckland, the more the customers and EasyEat.co.nz will benefit.
Are you working with top restaurants among others?
Yes. EasyEat.co.nz works with any restaurant that allows takeaway although we find that the $10 to $40 range of restaurants sell well for online delivery orders. A recent survey by the Restaurant Association of New Zealand shows 20.2 per cent of restaurants surveyed would like to provide an online ordering service so we have a lot of restaurants wanting to sign up and that takes time to process them all and have their menus typed up on EasyEat. We are seeing increasing customer feedback that they wish see fast food companies such as McDonalds, Burger King and KFC on our website which offers delivery through our own delivery drivers. Fast food is an area we are exploring which could add to our restaurant takeaway market.
Are people wanting a higher standard of takeaway than before?
There is a difference between fast food and restaurant takeaway. Restaurant takeaway food is generally of a higher standard and healthier. People expect quality and wholesome food which is good value for money. There is a large range of restaurants competing in the same market and word of mouth and online reviews quickly determine the good from the bad.
Do people spend less when ordering takeaway from a restaurant than when
they are dining there?
Statistics vary from region to region. We have noticed some restaurants pushing more for takeaways instead of dine in as this means less staff, building space, cleaning and property expenses among other costs.
Have your customers, commonly had dinner at the restaurant and then they are ordering takeaway on subsequent occasions? Yes. Many customers do not know of our service and that they can order online for delivery or pickup. We have recently placed stickers on each restaurant window describing our service and we are noticing a big pickup in sales from regular customers from that.
How much is your business growing and what new trends are you noticing among diners?
We are growing every week as more people find out about our service.This business model is big in every developed country in the world. We are noticing a trend in traffic from customers coming from mobile. We are also noticing an increase in word of mouth recommendations, through social media and online reviews of restaurants.
We often seek advice for the company largely from the leading companies overseas whose model we have replicated. They see the New Zealand market as too small to come into. Australia has three websites which have over 1800 restaurants each - DeliveryHero.com.au, Menulog.com.au and Eatnow.com.au. We have sought advice from many New Zealanders as well. Some of the best personal advice came from Xero's Rod Drury.


Next week: Note that I'm writing this on the morning of race 12 and 13 of the America's Cup and we have just lost both of them but I am confident we will win the next race or the one after that so I am planning to look at the NZ marine industry next week and some of the small businesses who will benefit from our Americas Cup win. Tell us what your hopes are for new business after this victory and what it has done to the reputation of the marine industry here.