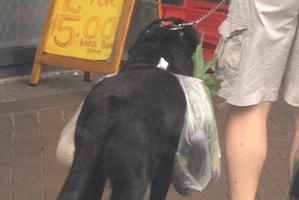 Dog as mule spotted in Panmure.
Escaping the huggers
Everyone loves hugs, right? Well, no. Research psychologist Peggy Drexler declared: "I am not a hugger. And I am not alone." She calls for an end to the "hugging arms race", particularly at work. Drexler became acutely aware of her dislike for professional hugs after earning her PhD. "I was feeling very professional and I saw a well-loved professor on the street and she was coming towards me," she recalls. "All of a sudden, I knew she was going in for the hug. It struck me, 'I don't want this, but how do I get out of it without being hurtful or graceless'?" She thinks there are some occasions where hugging at work is acceptable: after a big win, a personal loss, or a big life event - like an engagement or wedding. In general, she says, "hug sparingly". "If it's someone you see in your everyday life, you can become known as a serial hugger, and it's a bit creepy." If hugging comes up, particularly at the office, here are Drexler's tips to help non-huggers break free: 1. Keep something between you and the hugger until the moment passes. 2. Be direct and say, "Sorry, I'm not a hugger." 3. Take physical control with a stiff handshake and firm elbow that keeps personal space intact. 4. Escape and find something that needs your personal attention. 5. If nothing comes to mind, drop your cellphone. As a blanket rule, Drexler says, "If you wonder if a hug is appropriate, it probably isn't." (Source: NPR)
Cancer star power
Brad Pitt recently turned 50 so a Belgian non-profit called Stop Darmkanker, dedicated to ending colon cancer, sent the star a public letter highlighting his greater risk of the disease. Not only was the letter sent to 10 of Pitt's addresses, including that of his production company, but the message was also posted online, where it became a viral hit and helped Stop Darmkanker raise 314 per cent of its goal. Aside from his star power, Pitt was also probably selected because of his wife's double mastectomy, which Angelina Jolie underwent in response to finding out how great her genetic risk for breast cancer was. Pitt's letter also included a test vial used to check for signs of cancer, though the group didn't do itself any favours by creating instructions that use the phrase "randomly stab the poo". (Source: Adfreak.com)
Wrong flowers sent to a funeral
Real estate agent Lorraine writes: "A couple purchased a new home and the agent sent them flowers on settlement day. They duly arrived at the home and the people read the card. It said Rest in Peace. They were really annoyed and called the florist to complain. After they told the florist of the obvious mistake, the florist said, 'Oh dear, somewhere there is a funeral taking place today and they have flowers with a card reading Enjoy your new home!'."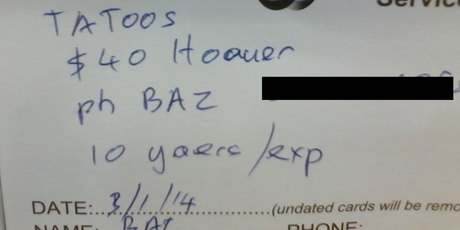 Local: "Couple of weeks ago we moved into a new flat in Dunedin. Long story short, we've found out the place is damp. We're talking carpet squelching underfoot." Check out the pictures here...
Read more at Reddit...
Picture this: Got your copy of Advanced Tedious Parenting magazine...
Picture this #2: Planet Earth tweets a map of where the human beings live...
News: Chinese billionaire Chen Guangbiao is China's 'Most Influential Person,' 'Foremost Environmental Preservation Demolition Expert,' 'China Earthquake Rescue Hero,' and 'Most Charismatic Philantropist of China,' according to his modest business card. How do we know so much? It's all written on his business card...
Video: Mr Marinator kitchen appliance overkill....
Got a Sideswipe? Send your pictures, links and anecdotes to Ana at ana.samways@nzherald.co.nz