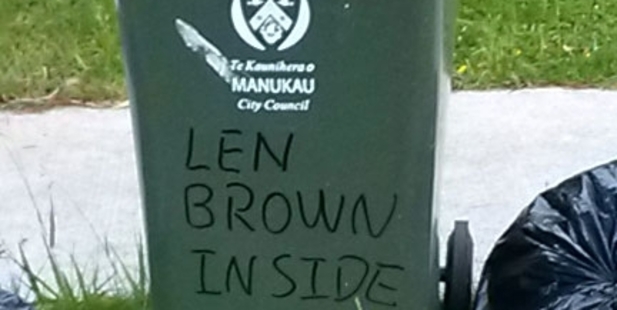 Smashing piece of karma for finger-gesticulating road rager
A road rage incident was heartily enjoyed by this reader: "I was in the right lane as I normally need to be to head home, but while stopped at the lights remembered I needed to go to the shops which required a left turn. So I stuck my indicator on, and when the light turned green started to move in to a gap in the left lane. Mr Audi took offence that I would dare to change lanes in front of him, but fortunately I saw and heard him coming when he floored it to close the gap with his head and right arm out the window to wish me some Christmas cheer. If only he'd been eyes front and not so worried about me he might not have done such a good job of wrapping his front bumper around the back of Mrs Toyota in front of him. And with the commotion he'd then created, I was quite easily able to change lanes in front of Mrs Toyota, and get to the shops."
Low-life thief takes the cake
To the low-life who stole my triple chocolate cupcake ... I understand that it was just too tempting not to take my temporarily unwatched purse at Okahu Bay while I chased my 2-year-old out of the water yesterday.
I understand that my cellphone, once wiped of my precious photos and home movies, will fetch you a few dollars. I understand that my car keys and wallet full of cards (now cancelled) will be fun to leaf through and then throw out. I understand that my handbag, once emptied of its meaningless (to you!) contents may make a nice gift to a female relative. I understand that the sum total of cash I possessed ($40 - destined to purchase my daughter a Xmas present) will perhaps buy you some food and cigarettes - they could kill you one day, fingers crossed. But why did you have to take my triple chocolate cupcake? I had been looking forward to eating that cupcake (so generously given to me by a friend) all morning. PS: I hope you find that cupcake very hard to swallow."
Comeuppance for aisle-hog
Andrew Parsons writes: "I was in Eastridge New World on Saturday. An elderly man was trying to push his way through the shoppers by calling out 'make way for the gentleman'. A voice piped up 'rudeness does not make you a gentleman: it makes you a pig' and the man slunk off."
Wedded bliss for Christmas
Warren Strand from New Lynn Police writes: "An ornate 9 carat gold wedding band was found in the Totara Ave carpark near the New Lynn Community centre on December 6. It has been handed in to the New Lynn Police. If the owner would like wedded bliss restored for Xmas please give me a call on (09) 826 2454."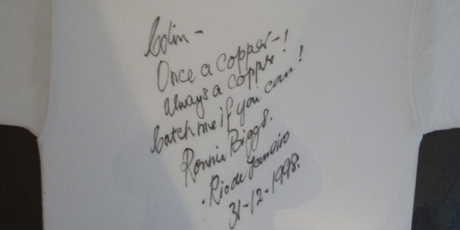 Colin from the North Shore used to be a policeman. "Ronnie Biggs, the now late great train robber, signed this T-shirt for me while living in Rio de Janeiro in 1963. I never did 'catch' him. Too late now," he quips.
Picture this #1: Maybe we should warn your readers to watch out for speeding trailers...
Picture this #2: Piers spotted this mayoral lunch on the menu in the window of a Glen Innes sushi restaurant. Rumours are it is just about to get rolled...
The sea is awesome: The Giant Horse Conch is impressive...
Video: The difference between sympathy and empathy...
Got a Sideswipe? Send your pictures, links and anecdotes to Ana at ana.samways@nzherald.co.nz.