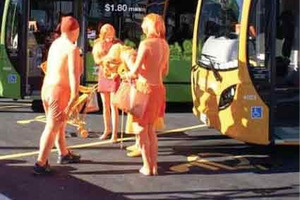 This is a photo from the current edition of Infratil Update, a shareholder newsletter. "Am I the only one who thinks this is a poor place to park buses for a publicity shot?" asks a reader.
Unholy confession from boyhood
The local park had a line of immature pines that were perfect for making huts in when you're 7 years old. One dewy Sunday morning we discovered a motherlode of dew dampened "gentleman's magazines" under one. We had a look. What to do? The church carpark was over the fence. Cut to 30 minutes later: families exit the church, chatting to the vicar on their way out. Every car windscreen had a centrefold stuck to it in the light rain. A very impressive sight indeed, and a lot of hard work on our part. My brother and I raced off home fast after the deed. We knew we'd done quite a bad thing. I've always imagined the looks on the congregation's faces.
Weird Wi-Fi monikers
1. There is an email router in central Wellington that comes up on my phone as I pass on the bus called "Pretty Fly for a Wi-Fi".
2. Classic is "Police Porn Monitor" - gives a lot of households sudden guilt.
3. Someone in our neighbourhood has a Wi-Fi called "Get your own f-ing wifi".
4. My American friend changed his (problems with people freeloading on his internet) to "FBI Surveillance Van".
(And many others that weren't publishable)
Physics lesson with a bang
Joe writes: "Our physics teacher at Avondale College was showing us the mini-lightning you get from a Wimshurst spark generator, as seen in classic Frankenstein films. One of his demonstrations was to show how electricity travels much more easily in ionised air. So he moved the spark terminals further apart and held the bunsen burner between and under them, so the expected enormous spark would leap effortlessly through the flame from one terminal to the other. The spark had other ideas. It leaped into the flame, down it, through the bunsen burner and into the hapless physics teacher, who was thrown back into the blackboard, leaving a physics-teacher-like smudge."