If love is a drug, Sideswipe is your syringe... delivering messages from the heart this Valentine's.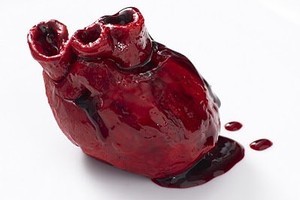 London bakers Lily Vanilli are making gruesome and delicious human heart cakes for Valentine's Day from red velvet sponge, cream cheese frosting and blackcurrant and cherry "blood". (Source: www.lilyvanilli.com)
To Keith
My husband Keith doesn't believe
In all this Valentine Day hype,
No flowers, no chocs,
No lover's note,
Sent via card, or txt or Skype.
Last year I dressed in sexy red
And swivelling my ample hips
I draped myself
Across his view
With pouting painted lips.
To no avail, I could not rouse
A moment's glance my way.
The telly blared
Live sport was on
The Black Caps due to play.
This year I've got the answer
For a romantic getaway
A spa retreat
Just for one
His credit card can pay.
From Heather
To Nick
Up a ladder, one two three
If you fall, fall for me
Up a ladder, down a rope
Would you like a
Valentine's grope?
From Emma
To Melanie
I love you like a bacon sandwich
I probably don't tell you enough that I love you,
I should tell you more often there's no one above you,
So let's put an end to all this tomfoolery,
And see if I can't win you some brand new jewellery
I don't thank you enough for your housework and baking
Perhaps I'm not as good at giving as I am at taking
(So I thought I'd email Sideswipe and win us some bacon)
Your personality and traits are just so endearing
Gosh, you'd look good with some Boh Runga earrings
Your beautiful face inspires my feelings and thoughts
I hope to God you're not allergic to pork
And now I realise that having you makes me a lucky man
Because it meant I could win all this ham
But I'm not just doing this to win us some prizes
I'm writing this because I love you, and know you like surprises
Although that meat pack would be most welcome, of course
But could you stop at Countdown on your way home? We're out of tomato sauce
And I'm sorry that, in what was meant to be a romantic rhyme,
There are at least three references to dead swine
From Andrew
To my wife
Babycakes you are my wife
The jokers say my trouble and strife.
But you and I have had some fun
Since back when I was 21.
We've got two boys, been married 14 years.
Good and bad the times we've shared.
I'll have a beer, you have a wine.
We're still each other's valentine
To Tee
You're hotter than curry baby, you should be in a magazine. I will come to Karratha in WA with you, if you ask me ... But if I win Lotto beforehand, well then I might just send you a postcard from the pyramids. In the meantime, while fate decides our future ...
Happy Valentines!
Ciao Julian
To George
George, with you I would share my fush and chups,
George, you are the only one with whom I want to lock lips,
George, this Valentine's it's 7 years since we met
George, I bet you didn't realise how fat I would get
To Mr Clarke
Mr Clarke, after 19 fabulous years of marriage, you still melt the elastic in my underwear! I love you unashamedly!
Mrs Clarke
To my walkabout love
My love is away on a seven-day walk.
She might as well be in Spain or New York.
But of this I am sure:
I'll kiss her and woo'er
When she touches the tarmac at Mangere, Auck.
To Alex
To my darling hubby Alex
I cook your meals
I wash your clothes
I mow the lawn
I prune the rose
I clean the house
I dig the garden
And when you fart
I say "Pardon"
I do the shopping
I clean your van
I do it all,
Because, I can
You're not into "Valentine's"
You think it's dumb
So I guess I'll just get
The usual slap on the bum!
Love Jo
To Diane
Hi dear. Love you. What's for tea?
Love Max
To Jennifer
I know an exceptional girl,
When I think of her it makes my head whirl.
When I kiss her it makes her leg curl,
I am extremely lucky to have her in my world.
To my amazing fiancee Jennifer.
Love from your possum, Nick.
To Andy
A short poem about a great husband
He's short and just a little chubby
His name is Andy, he's my hubby
He's gentle, kind, warm and lovin'
And wow, can that man clean an oven
On grumpy days you can guarantee
He'll apologise to me
As dad and poppa none compare
For all our family he is there
This is the man on which I'm sold
But the best thing is he buys me gold!
Love Rhonda
To my husband
A cuter tale has never been told
Of a fairytale romance that never gets old
A boy and a girl that met at work
And fell in love over a coffee perc
Love abounded and then a wedding on a beach
And now we celebrate magic Valentine's Day for a second time each
Love Victoria
To Jonny
For my Jonny Bum
My Valentine is mad at me, so this newspaper rhyme is my lasting plea
Cupid tell him I'm sorry for the mistakes I've made
For kicking and punching him when the tickling is too tough
And for hogging the blankets in the midnight rough
I need him to know he means more to me
Than my love of chocolates, shopping and Wii
Please tell him his smile doesn't just lighten up the room
It brings out the stars, the moths, and the moon
Cupid you need to print this, just so he knows
That he is the single most precious valentine rose
Believe me when I say that this man is more than great
He's my best friend, my lover and my true soul mate.
To Harris
To my beautiful Harris
You make my world go round; you are the golden ray of sunshine in my day. Just thinking about you makes me so happy ... You are definitely the cheese to my macaroni and the sweetest teenage boy I've ever met. Like you said, I am your girl and you are my boy and it will be that way forever.
I can't wait to see you after school, Happy Valentines Day my lovely.
Lots of love from Sophie.
To God's gift
Dear valentine, thou art divine
snoring and burping withstanding ...
Your face is heaven, your features fine
And your physique passes all understanding.
You are a man among men, you stand alone
And your strength is beyond comprehension
You're unique, unusual, no other is known
Your qualities are too many to mention.
You're God's gift to women, you tell me quite often
And I should bless the ground where you daily tread
But being allowed to kiss your feet does not my heart soften
And neither does having you in my bed
We've been together a while though it seems much longer
The days and the nights seem to go on for ever ...
I know what doesn't kill you outright makes you stronger
But our relationship I would willingly sever.
I wish you a Valentines Day filled with passion and more
With chocolate, romance and flowers
I hope that you find a heart that is willing and can ignore
How you can talk about yourself for hours!
So Cupid shoot your arrow and find him another
Someone who will think him quite sweet
Perhaps someone that somehow resembles his mother
And is willing to fall at his feet.
Wendy
To Karen
The time has come for me
To break out of the shell
I have to shout
That I'm coming out ...
I want the world to know
Got to let it show ...
Diana said it best
I was born this way
And born to love you
Love Janey
To Morri
True Story
I was lost, standing at a red light.
You were my bus driver, love at first sight.
You took me to the Topp Twins
And then to Cardigan Bay.
We travelled the world,
Having two babies on the way.
Thirty years later and
Still together we are.
Who would have guessed we would have
Journeyed this far?
On that very same corner
Now stands the Sky Tower,
Surely a monument
To our love and its power.
Mary loves Morri
And the winner is...
The above entry is the winner of our Valentine's Day competition. Congratulations Mary and Morri! You have won a pair of Boh Runga for New Zealand Mint Weapons of Mass Devotion arrow earrings and pink champagne fragrance Ecoya's Love Candle, for her. And for him, a meat pack with a 10kg Colonial ham and some Colonial dry-cured streaky bacon ... plus, for the smoothest shave in the land, a year's supply of King of Shaves gear.