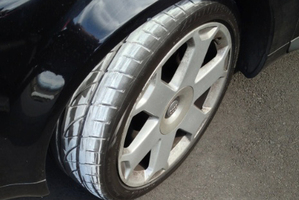 "I generally park in my driveway at work, which is not a designated parking space," writes Nick Tresidder. "Council have advised me that I cannot be ticketed there and that if I get chalked, I should just wipe it off, which I do. This warden obviously took exception to this."
David who?
Dementia campaigner Peter Smith, from Rothwell, Yorkshire, was excited to hear that Prime Minister David Cameron had taken notice of his Tea Cosy dementia cafe to the point of donating a raffle prize. Expecting maybe a hamper or dinner set, the 65-year-old was less than impressed when Cameron's office sent in a signed picture of the PM. Smith, who has worked for the Alzheimer's Society since his mother Phyllis' battle with the condition, said: "I wouldn't buy it. I think it's a bit presumptuous as a raffle prize."
Mum caught in parking ticket conundrum
A single, unemployed mother claims that she's unlawfully being charged more than $100,000 in parking ticket fines for a car she didn't even know belonged to her.
Jennifer Fitzgerald said her ex-boyfriend Brandon Preveau bought a used car for $600 in 2008 and registered it in her name without her knowing. The couple broke up in 2009, and he dumped the car in a car park at Chicago's O'Hare International Airport. Now, three years later, the car has received 687 parking tickets. Chicago law states that any car parked for more than 30 days in a city-owned lot is subject to an immediate tow to a city pound or authorised garage.
Fitzgerald argues that most of the tickets would not have been issued if the car had been towed. When she found the first bunch of tickets, she claimed she tried to move the car herself, but she did not have the keys. She then asked the Chicago Police Department to help her move the car, but its staff did not have access to the lot. She then got the Illinois Secretary of State to revoke the licence plates - but the car still received tickets. A judge then told Fitzgerald to transfer the registration and title to her ex-boyfriend to give him the responsibility, a move which the city deemed inadequate.
(Source: CBS News)
Senator Santiaga the orc
Diverse representation: Colleen Lachowicz won her contest for a Maine state senate seat despite ridicule by opponents for her devotion to the online game World of Warcraft. "Certainly," said an opposing-party official, "the fact that she spends so much time on a video game says something about her work ethic and ... immaturity." Her WoW character is Santiaga, an "orc (Level 85) assassination rogue" with green skin, fangs, a Mohawk and pointy ears.
(Source: News of the Weird)
Video: The upcoming TV3 show The X Factor NZ needs a 'reverse Susan Boyle move' like this from the French version of the Got Talent franchise...
Seasonal overeating is on it's way so dig in and then follow these the top weight loss tips from the best diet advisor, science ...
Hidden Camera: A genuinely terrifying prank for TV in Brazil. I'd take the stairs for the rest of my days.
Video: A news story from 1990 about 37-year-old truck driver Bill Morgan who nearly died then won a car on a scratchie, wins $250K while doing a re-enactment for the news story. Unbelieveable!