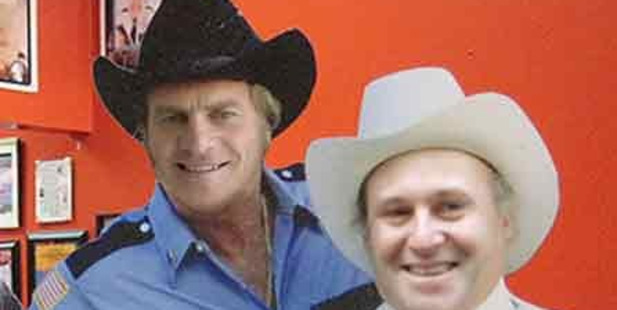 Bill English and John Key portrayed as The Dukes of Hazzard's Sheriff Rosco and Boss Hogg (from tumblr.com)
Cop that, bad drivers
Mark writes: "A friend of mine has decided enough is enough with Auckland drivers who think the following are acceptable while behind the wheel: Texting/talking on phones, running red lights, driving in bus lanes, not indicating, throwing rubbish and cigarette butts out of cars. So he has installed a police siren in his car. When he sees one of the above he simply turns the siren on and pretends he doesn't know where it's coming from. It is excellent, and there are a few more of us planning the same for our own cars."
Mobile that doesn't drop out or off
Suzanne from Rotorua writes: "On a recent trip to the United States to visit friends in San Francisco we were driving from their home to the CBD across the bridge. Our friend's cellphone started ringing but we couldn't find it. It rang again and still no luck. It sounded as if it was inside the door panel.
We were completely baffled and laughing. Over the bridge we went and the phone started ringing for a third time. Once in the CBD, we got out of the car to have a good rummage. Then she noticed something. Her cellphone was on the car roof!! It had travelled for over 20 minutes, including over the bridge in the wind."
So close to becoming a car thief...
Another case of a car key unlocking someone else's vehicle: "I threw my groceries into the back of someone else's car, got in and proceeded to drive off," writes Amanda Donald. "Only when my friend asked, 'Er, is this your bag?' did we discover we were in the wrong car! Parked two spaces down was my identical vehicle. It took a while to move as we were both in hysterics, realising how close we came to 'stealing' a car!"
Attention to detail missing
A reader writes: "Early one Sunday morning, I needed to get milk from the dairy. Bleary eyed, I drove up the hill and parked across from the shop. Clutching my purchase, I made my way back across the road and unlocked the car. But the door wouldn't open. I pulled harder, and still no luck. I was yanking as hard as I could on the door and happened to notice that a car like mine was parked behind me. It was then that I looked inside the driver's window and spotted a very agitated and angry old man hanging on for dear life to the inside of HIS car, trying to stop this obviously mad woman from carjacking him!"