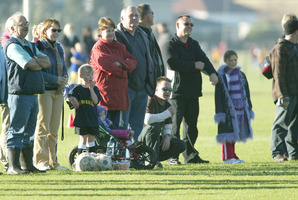 Sideline Champs ambassadors like Richard Kahui, Casey Kopua and Ivan Vicelich are an inspiration to young Kiwis on the sports fields and courts each week.
But the biggest inspirations are far closer to home: the mums, dads and families who cheer their hearts out on the sidelines. These people deserve recognition, so I am delighted, today, to announce the new Herald on Sunday Sideline Champs Awards 2013, in association with McCafe.
The awards, which kick off next Saturday, celebrate New Zealand's best grassroots sports fans.
Our winners will demonstrate exemplary behaviour. Perhaps it is a dad who broke up a fight or defused a tense situation; perhaps a mum who has gone out of her way to recognise the performance of all the kids on the field; perhaps an aunty who has set up a positive cheering squad.
The Herald on Sunday has established these awards in discussion with New Zealand Rugby, Netball NZ, NZ Football, Basketball NZ, Hockey NZ and the NZ Rugby League.
We are grateful for the support of the nation's 109 McCafes, which have generously agreed to award a coffee and muffin to each of the 15,000 Sideline Champs winners around New Zealand - prizes valued at $82,500 in total.
Chris Brown from McCafe says: "McCafe and our franchisees are proud to be able to help recognise the positive sideline support of grassroots sports each weekend."
Local sports administrators and volunteers will help us find worthy winners, so we're particularly grateful to them.
We'll recognise the winners with a Sideline Champs scroll of honour in the pages of the Herald on Sunday or nzherald.co.nz.
So show how much you care on the sidelines this winter, and you could be a winner.