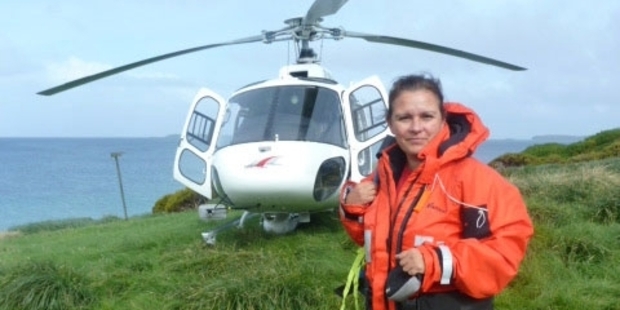 Twelve Kiwi students set off today on a 13-day voyage to the Auckland Islands in the Sub-Antarctic, where they will help to plan the building of a world-leading research station.
They will be joined on the Young Blake Expedition by a crew of leading New Zealand marine scientists, representatives from the NZ Navy, DoC, Niwa and the Sir Peter Blake Trust.
This week we profile five of the expedition's members, starting with Shelley Campbell, CEO of the Sir Peter Blake Trust.
Sir Peter Blake was well known for his sailing achievements, but what can you tell us about Sir Peter Blake the environmentalist?
Blakey noticed during his sailing career the changes that were occurring to the world's oceans, marine life and sea birds. He wanted people to know about this and, more importantly, to do something about it. So Blake Expeditions was started to highlight key environmental hot spots - Antarctica and the Amazon. His dream was to create "documentaries with a difference", which people would want to watch and to share the expeditions in a fun way with every child in every school.
What is the aim of this Sub-Antarctic Young Blake Expedition?
The Sub-Antarctic is often referredto as the canary in the coal mine when it comes to changes in our climate and ocean. Given Peter's connection to the Southern Ocean, the trust, through Young Blake Expeditions, is working alongside Kiwi scientists to engage young leaders, and all New Zealanders, in understanding more about the exciting research taking place inthis region and what we can learn from it.
What is your advice to the 12 student voyagers before the expedition?
It's an immense privilege to visit the Auckland Islands and you realise that from the moment you set foot on shore. Penguins and sea lions are constant companions, and around every corner is an opportunity to observe the beauty of an albatross nesting or the fascination of an old shipwreck hut. I hope the voyagers ask plenty of questions of the science and conservation leaders, who are truly world-class experts in their own right.
How can Kiwis make a difference to their marine environment?
If we want our children and grandchildren to swim in clean beaches and see beautiful seabirds and marine life in our harbours, rather than reading about them in books, then we all need to care.
Whether it's beach clean-ups, promoting marine reserves, fishing sustainably, or riparian planting it all matters. It's about teaching our children that its part of our Kiwi DNA to look after our environment so that the environment looks after us.